Have you heard the song
SMILE
?
Lyrics by John Turner and Geoffrey Parsons. Music written by Charlie Chaplin, 1936.
Smile though your heart is aching
Smile even though it's breaking
When there are clouds in the sky, you'll get by
If you smile through your fear and sorrow
Smile and maybe tomorrow
You'll see the sun come shining through for you
Light up your face with gladness
Hide every trace of sadness
Although a tear may be ever so near
That's the time you must keep on trying
Smile, what's the use of crying?
You'll find that life is still worthwhile
If you just smile
That's the time you must keep on trying
Smile, what's the use of crying?
You'll find that life is still worthwhile
If you just smile
A smile is the most beautiful thing on a person's face. A smile is a sign of welcoming others to you and relaxes the people around you. Wearing a smile on your face its almost like having a warm and shining beam of happy light following you through your day and lightnens up every dark corner. So please my beautiful Picos, don't forget to smile!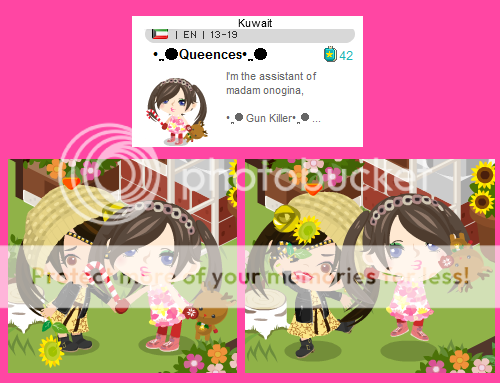 My Pico Of The Day Is
•̪●Queences•̪●
.
Last night sweet
•̪●Queences•̪●
appeared at the door showing a display of disbelief and excitement in finally meeting me. She proceeded to let me know how much she likes our blog and that she is a
HUGE FAN
of it and reads it
EVERYDAY
.
The visit from
•̪●Queences•̪●
was so pleasent that she ended up staying for a long time to talk to me about many interesting topics. We danced and joked around which actually turned my night from great to
SUPER-DEE-DOOPER GREAT!
♡MONTEGA☆
and
ŠĂ3Đ ăľ∂Áź
Last night while mingling at Japanese Park #5, I saw this cute couple and couldn't help feel a tickle in my heart ...
❤
for I realized that
LOVE
is everywhere in Pico. Isn't it
WONDERFUL
?
Remember
LOVE IS THE GREATEST
, not only the love between a couple but also in friendship. Fortunately, I consider myself
VERY
rich in
FRIENDSHIP LOVE
. ;)
You already know that
I LOOOVE MUSTACHES
. I love pictures of them on my notebooks, on my shirts, on my handbag, on my coffee mug, on my
EVERYTHING
!!! But I especially love them on men, that is *
MAN
*, my husband's... LOL :P
You can imagine how thrilled I was when I saw our friend
パンツちゃん
wearing a
MUSTACHE
. "You, go girl!"... where's the law that says that only men can have a mustache?
Just like you can find
LOVE
everywhere in Pico, you can also find
GENEROSITY
. Our sweet friend
marigo2
was spreading generosity all around her and thought I never heard her say a word, her
WONDERFUL
attitude toward others was enough.
My dear Picos, it is truly very easy to be generous to others, just open your heart and let some of that love come out and spread a shower of loving rain among others ;)
Now I had noticed our
HAPPY
friend
NongWaii
dancing for a while, and thought I kept passing her by. Everytime I would get to her, she would start dancing again and it got me wondering ... "Did she get the tickly feeling on her feet just like I always do when I can't stop dancing?". So what do I do? I joined her and had a great time!
Remember, you can always dance your sadness away :)
Now
۞Mafico۞™elwin
is another
FRIENDLY
Pico and a
GREAT
dancer. When I aproached him and joined him in dancing, he did not shy away like many other Picos do. He
actually
made me feel welcome. Unfortunately, he had forgotten to put his shoes on when he left his house, and the harsh ground at the Japaneses Park ended up hurting his feet. :(
Next time I see him I hope he has shoes on so we can dance the night away. :)
'Til next time, wear that beautiful smile of yours. And just in case ... carry a spare one in your heart. ;)