Written by:
ROM-eo™
We've all heard the story of
The Prince and the Pauper
, right? Well, if not I will explain the basic gist: a prince and a peasant switch clothes to shed the stresses of their own lives and see how it's like living the other's life.
I have noticed that people are sort of mean to the "newbie" or "noob" Picos and I wanted to see what this treatment was like to get a better understanding.
Getting into my Closet I took off the more sophisticated clothing that I normally wear and put on a pair of grey pants that I used to wear in my own newbie days. I walked around Pico and went to events and let me just say, IT'S A TOUGH JOB BEING A NEWBIE. People
are disrespectful and rude; they ignore you and don't want to be near you. In fact this
began to bring back memories from when I first started Pico.
I was kicked out of 14 events in 1 day just for being a newbie ... and that has never happened to me before. A majority of the time I would walk into the event and say hello and the owner would either say "Ew" or "GTFO" and then my screen would turn grey, letting me know I'd been kicked out of the room. I don't understand why? Do you not like
my clothes? Why do you judge based on appearance? Why don't you judge me by my personality and
take it from there?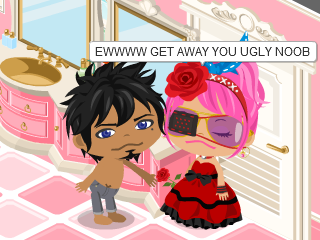 Here is an example of what would happen when I would go into an event. I have a heart so I took her name out.
(08:11) ROM-eo™: hi
(08:11) ROM-eo™: how are you?
(08:11) נα∂є******: GET OUT
(08:11) ROM-eo™: ...
(08:11) נα∂є******: U POOR UGLY ASS
(08:11) ROM-eo™: why?
(08:11) ROM-eo™: =[
(08:11) ROM-eo™: is it because im ugly?
(08:11) נα∂є******: GET UR ASS OUTTA MA MOUSE
(08:11) נα∂є******: YES ITS CUZ UR UGLY
(08:12) ROM-eo™: why are you judging on my appearance though?
(08:12) ROM-eo™: =[
(08:12) ROM-eo™: i can't afford good clothes at the moment
(08:12) נα∂є******: BECAUSE UR UGLY NO ONE UGLY ALLOWED
(08:12) ROM-eo™: what if i put on a shirt, i have a gacha one
(08:13) נα∂є******: NO JUSTR GET OUT OF MY HOUSE
(08:13) ROM-eo™: oh, ok
(08:13) ROM-eo™: have a nice day
(08:13) נα∂є******: FU/ CK OFF GET OPUT
(08:13) ROM-eo™: wow.
When I would travel around on Pico people would either ignore me or insult me. I've never seen so many insults with the word "noob" in my Pico experience!
People, Pico is supposed to be a happy and friendly environment, not a hostile, shallow, and elitist environment. If you have to judge by appearance then maybe you shouldn't be allowed to socialize at all.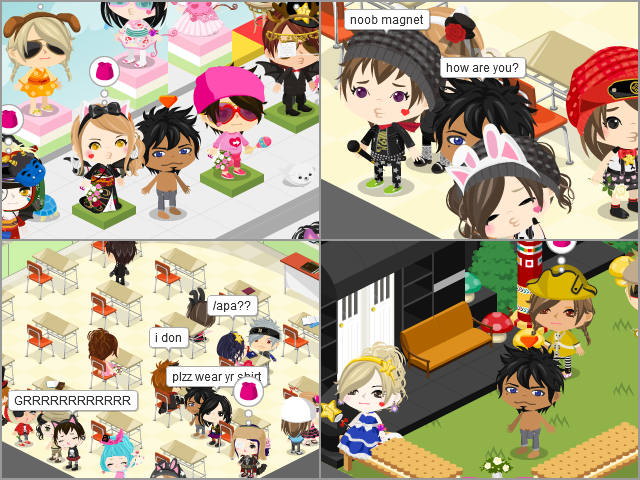 It's kind of funny because after I would get insulted, I would change into my normal attire and people would change their perspectives of me and want to be my friend. This proves that people are shallow.
I do not want to sound like a hypocrite; I get into arguments with people too, but it is never due to their appearance. I only act on how a person carries themselves and their personality. Looks do not matter to me and they shouldn't matter to you.
So, the lesson for today is to think twice before judging a person. You never know who that person could be. Learn to like and respect all Picos because they have feelings too. And, yes, even though newbies maybe naïve and annoying they still have feelings.
Remember, at some point you were a newbie too.
---
Read the full chat logs from ROM-eo™'s experience

here

.

Warning:

Explicit language used. Not suitable for people under the age of 16.