Written by: Nyαgσ
Hey Picos! It's Nyago, a.k.a that one
Picorazzi
girl. Picorazzi is a blog, named for "paparazzi" in Pico. The team of writers at Picorazzi catch Picos in the act of doing things, such as drama, fights, arguing, and confusingness.
If you haven't noticed, there are some CRAZY picos out there. I mean, from
getting divorced in the bathroom
to
creepy professors
, Pico can be full of some lunatics.
Working on the Picorazzi blog has also opened my eyes to all the completely dramatic things that Picos do.
If you have ever wondered how the Picorazzi writers get clued into all of the drama, we either:
get an email about it; or
simply sit in a park or other busy room and wait.
Some Picos have short temper. If you mess with them, they get all rude and say things that are totally uncalled for.
I've actually had someone come up to me and BEG me to put them on the blog. Of course, I said no and they decided to go start drama with everyone, hoping I would change my mind. Puh-lease. You got to do better than that to get on OUR blog.
No, but seriously, in reality, I kind of feel bad for some of these people. I mean, open your eyes, people! Realize that fighting and doing all of this drama won't get you anywhere! If you want to get in drama, at least have some DIGNITY. Don't be trashy, and please respect that they are younger Picos who could be standing right there!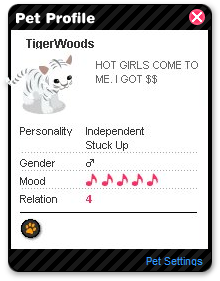 Okay, I know this is kind of random, but isn't that Pet Profile just HILARIOUS! Made me laugh for weeks. Totally fits him. The description, the personality, and the name! Who is the GENIUS who came up with that?!
Anyways, tips to stay out of drama, you know, to help all of those picos who love drama. This could help you in real life too.
Just simply ignore what they say.
Don't talk to anyone if that's what it takes to keep drama-free.
Only have one friend so you can only get mad at one person.
Keep all rude comments/suggestions in your head, even if you feel like saying, "But Stacy, those shoes are REALLY ugly. Juss sayin'".
Whenever someone is rude to you, just talk over them either in real life, or in your head!
And for those ... uh ... select few who feel like they just NEED to be in drama, then here are some tips for
you
:
Yell at EVERYONE.
Be annoying.
Accuse people for thinga they didn't do.
Befriend someone and then make rumors and lies about them.
Smack someone upside the head. [Note, don't take these seriously, and if you do, you didn't hear them from me.]
Thank you for reading this amazing random and very sarcastic post. Well, most
wasn't
sarcastic. Okay, you get it. Bye!
P.S. Be safe and stay out of drama. Remember, there are younger Picos, and older Picos (100+) who might read that and probably have a heart attack and die.
P.P.S. Don't do weird things because they will probably end up on our blog. Just saying.
P.P.P.S. BE NICE BECAUSE SWEET_MOM ORDERS YOU TO! :D