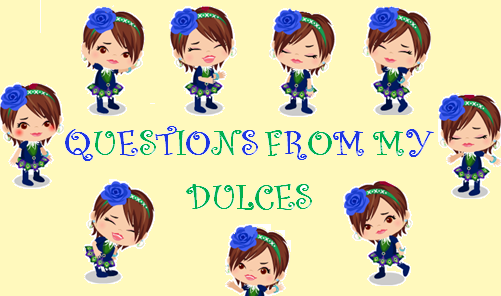 Ðaяk Kì†ty๖ۣۜ♥ from Canada
Q:
How did you meet Catero?
A:
I met Catero at Pond Park back in June, I was standing alone being shy and he sent me a buddy request, which I accepted without checking who it was from and immediately he whispered to me :).
Q:
Who is your bestest friend on Ameba Pico?
A:
Catero <3 However, I have other best friends that are very dear to me, (in no particular order)
Ðaяk๖ۣۜ♥, ROM-eo™, Peggy Hill and CHOLO.
Q:
How long have you been on Pico?
A:
Since June 6, 2010, I think ;)
Q:
Have you ever seen a pink panda in the Pet Farm?
A:
NEVER :(
Q:
Whats your daughters name in Pico?
A:
S
orry, can't say :( I need to protect her identity from the Picos that do not like me.
Mermaid Girl.
Q:
What has been the happiest day in Pico for you?
A:
The day I met Catero, my life changed immediately :)
Q:
and the saddest day?
A:
When Catero and I fight :(
Q:
What are your three favorite songs?
A:
I'll tell you five of them in the order I like them at this very moment....
1.
E.T. Katy Perry ft. Kanye West
2.
I Need A Dr., Dr. Dre ft. Eminem and Skyler Gray
3.
Just Can't Get Enough, The Black Eyed Peas
4.
On The Floor, Jennifer Lopez ft. Pitbull
5.
A Year Without Rain, Selena Gomez
Q:
What is your dream car?
A:
One that runs with water and drives by itself once I tell it where I want to go :P
Q:
What is the best gift someone can give you?
A:
Their love <3
Q:
Do you have a bad habit?
A:
I twitch my nose like Bewitched, I do it without realizing it.
Ðaяk Łσvε๖ۣۜ♥ from the United States of America
Q:
If you could do ANYTHING at all what would it be?
A:
Open my own book store or gift shop
.
Q:
If you could meet any one person in the world who would it be? someone famous? someone u admire?
A:
someone famous, Eminem :P someone I admire, Catero
Q:
Everyone knows u love to dance, but what is your FAVORITE dance? Tango? Momba? salsa? Foxtrot? waltz? or something else?
A:
Country Dance, I am from Texas, remember? :P
Q:
What is your favorite thing to do "In Real Life"?
A:
Cuddle up with my kids <3
Q:
What is your greatest fear?
A:
Disappointing the people I love :(
Q:
What is your biggest dream?
A:
To spend a whole day with someone very special in my life eating "MOLE" and "GUACAMOLE" :P
Rubi Chel
Q:
Where is your favorite place in pico?
A:
Any park, as long as its empty or not too crowded.
Q:
Do you work already?
A:
In real life, I am a stay at home mom :)
Q:
How much AG/ gummies do you spend a day?
A:
It depends, if there are new items, I spend ALOT!
Q:
Who is your Best Friend?
A:
Catero is my best friend in Pico and in real life <3
Q:
What is your favorite action?
A:
The "PLEASE", I love holding hands with EVERYONE :)
Q:
What's your favorite food in real life and in Pico? =)
A:
In real life its
Mole
a
nd in Pico it's not really a "food", it's a "drink", coffee.
Mrs.Sweetz from the United States of America
Q:
Will You Please Check Out My URL?
A:
I did and its great :)
Q:
What Made You Think Of Starting A Blog?
A:
Catero and my daughter encouraged me to make one :)
Q:
What Are Your Hobbies?
A:
Scrapbook and jewelry making
Q:
Where Do You Get Your Ideas For Your Blog?
A:
I get them from interesting things I see happen everyday in Pico.
Q:
How Often Do You Change Your Room?
A:
Not often, i
n almost one year I've been in Pico, I've done it only three times.
Please send your questions to Sweets* by Pico letter.
Maximum 6 questions per person.
Questions will be randomly selected.
Questions MUST be only for Sweets* and NOT for Catero or ROM-eo™ :P
And please, please be respectful with your questions :)