Hi
♠☆™۞NET۞™☆♠
,
Anyone can be in my blog... my blog belongs to all Picos, rich, poor, new, and old ones as long as they are nice, kind and respectful :)))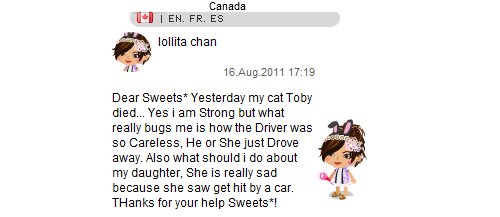 Dear
lollita chan
,
I am very sorry for your loss, my heart is with you and your daughter. It seems to me that the driver didn't care for what happened since it was "just a cat". But what he/she doesn't realize is that a pet is more than just an animal for us.... it is a piece of our heart, part of our family. He/She should be more careful though, this time it was someone's precious pet that was hit. Next time could be a human. I think it is devastating that your daughter saw how it happened... I can understand how terrible it might have been for her. The only thing you can do at this point is to assure her that her that Toby didn't suffer. Tell her he didn't feel any pain and that now he is playing with my Oreo in Heaven. <333

Hi
Marty ™
,
Thank you so much, it is great to have a blog that people seem to like and it is all thanks to the wonderful writers that, with their amazing work they have, contributed to the success of it :)))

Dear
Vassilis♕
,
I try to help anyone that needs my help, in real life, Pico, and in Second Life. I do what I can and at the end of the day I pray to God for the strength to do it again the next day with his grace :)))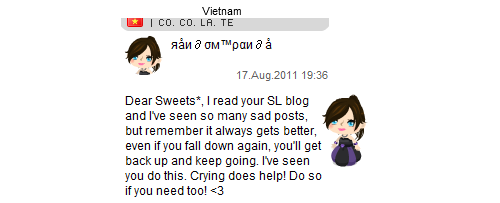 Dear
яåи∂σм™ραи∂å
,
OMG, you are sooo sweet! I am very touched by your letter. After I read it I went back and checked my SL blog and realized you are right. I had no idea that lately I had been sad most of the time. However I always manage to smile and, believe me... I cry, I am a cry baby... LOL. SuPeR LoVe YoU <333
(Keep this letter anonymous named lol).
"Dear Sweets, What's the best way to be happy?"
For me, the best way to be happy is by helping others, feeling productive and knowing that I might have touched a life even if it was in a small way.
"What's the best thing you could hold on to just to feel fine?"
Holding on to the love of those beautiful people that are part of my life and to good memories is what always puts a smile in my heart.
"When you're sad, you want something to smile about. For you, what would that be? And how?"
When I feel sad what usually makes me smile again is my faith in God. I talk a lot to our Lord when I find myself feeling down. I also write, cuddle up with my kids, or listen to music and dance... that always cheers me up.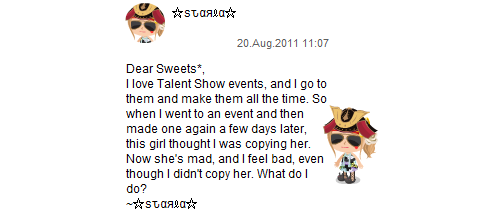 Dear
☆ѕԏαяℓα☆
,
Sweetie you have nothing to feel bad about.
Talent Show
events are very popular in Pico and anyone can make them. It is not copying at all, just try to be original and perhaps add a little twist to them by adding your own personal touch :)))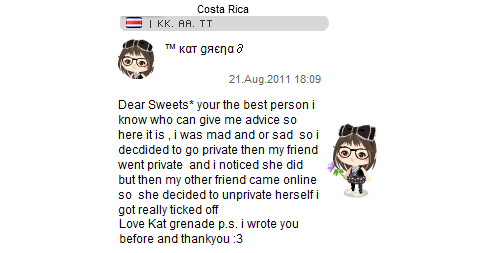 Hola
™ кαт gяєηα∂є
,
Going private or unprivate in Pico is a right we all have. We should respect what others choose and not take it personal. Smile :)))

Dear
๑◕ ܫ ◕๑
,
I truly believe that it is too early in life for you to find the love of your life...especially in Pico. If you really "love" this boy and he loves you back, then your friend will have to accept it. However, think that most love relationships in Pico don't work out many times. Are you willing to risk losing a best friend over this boy? Is he really worth it?
Dear
ScarIett
,
I wrote the Dolly JoAnne poem for some friends of mine that sadly lost their little daughter ten years ago. When they told me how much she loved a doll she had named JoAnn, I immediately felt chills and knew I had to write something for them.
My struggles become lighter ever time I am able to help someone either by just listening to them or with some kind of advice. :)))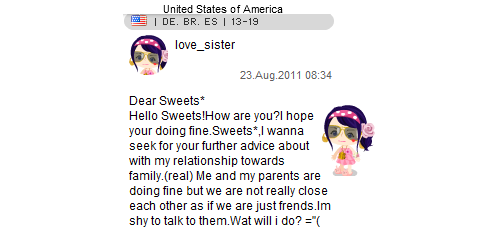 Dear
love_sister
,
Please don't feel shy talking to your parents and expressing your feelings to them. Me, as a mother can honestly say that I am always interested in knowing if something is making one of my kids sad. A parents' goal is to be close to their child and maybe your parents, due to their busy lives, haven't realized how you are feeling. Next time the three of you are together, open up and don't be afraid to express your concerns and feelings, your parents love you and I bet it is important to them what you have to say :)))