Have you visited the
Model Room
where you can actually get to see those exclusive items that we can purshase at the Shop Lounge in Las Vegas?
Well, Catero and I decided to go and take a look!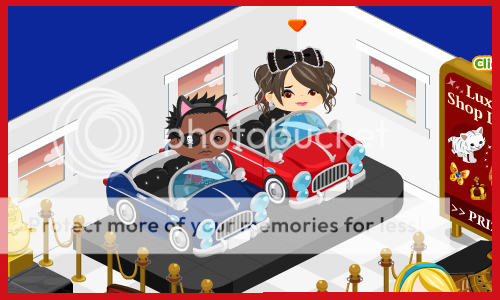 The first thing we noticed were the cars. Right away I got into the red one (
my favorite color
) and Catero into the blue one (
his favorite color
). These cars are available At the
VipShop
and also come in yellow, pink, and green, and they are priced at C$500,000.
Across the room we noticed the beautiful High-Class Grand Piano that is also available at the
VipShop
for C$500,000. Catero soon took position of the piano and started playing to my favorite Norah Jones' song, "The Nearness of You", as I sang along.
Photo by Catero
Finally we came to the best part, the Bourgeois Cabriole Leg Bath Tub. At first we had to wait in line for our turn to get in. When finally we were next, I couldn't wait to jump in. Catero decided to keep guard , there were rude people trying to get me out and he was making sure that wouldn't happen, and remember he IS a cat and cats don't like water!
This wonderful tub is available at
Ben's Shop
for C$30,000 where you can also find the Giant Flat Screen TV for the same price.
Visit the Model Room and I bet you'll have alot of fun just like Catero and I did. But PLEASE be nice to each other and wait for your turn to enjoy these items.