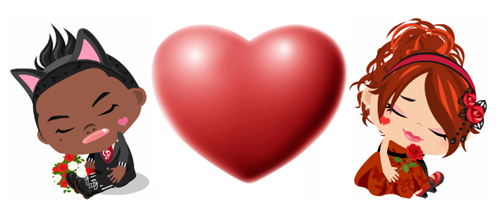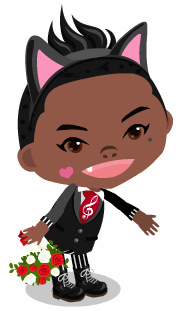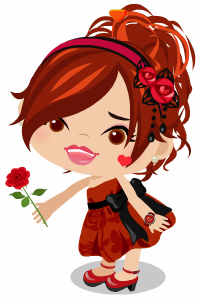 My dear Picos, may you give and recieve the purest and sweetest of

LOVE

today and everyday of your life.
And a very special wish for my sweet friend Catero, thanks for all your love and support ... two whole numbers and a million times. ;-)
---
It's great that Valentine's Day is a conscious reminder to go out of our ways for a gesture directed at someone you love.
But what about all the other days of the year when retailers aren't bombarding you with messages to buy that perfect gift? Don't just wait for a commercial date to tell someone you love and care, you don't need a card, chocolates or any other item; you just need the words "I love you".
Have a very special Valentine's Day, especially sweet_mom, who is always bubbling over with lots of love and warm fuzzy feelings. ♥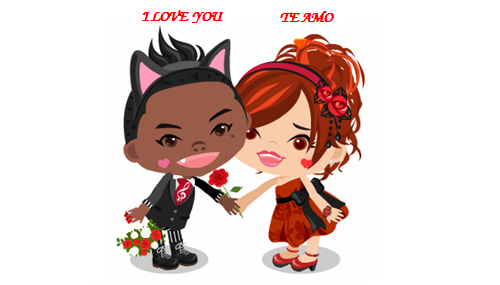 We want to tell our readers we "

LOVE YOU

" in their own language...
AFRIKAANS – Ek het jou lief / ek is lief vir jou
ALBANIAN – Te dua
ALSATIAN – Ich hab die lieb
Dialectal ARABIC (North African) – N'bghick
Dialectal ARABIC (Eastern) – Bahebbak (to a man) / Bahebbik (to a woman)
Literary ARABIC – Ouhibbouka (to a man) / Ouhibbouki (to a woman)
ARMENIAN – Yes kez siroumem
AZERI – Men seni sevirem
BAMBARA – M'bi fe
BASQUE – Maite zaitut
BELARUSIAN – Ya tabe kahayu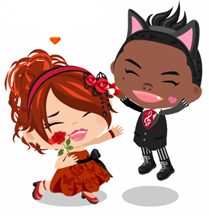 BENGALI – Aami tomakey bhalo basi
BERBER – Righ kem
BOSNIAN – Volim te
BRETON – Karout a ran ac'hanout / Da garout a ran / Me az kar
BULGARIAN – Obicham te
BURMESE – Nga nin ko chit te
CATALAN – T'estimo
CHEYENNE – Ne'mehotatse
CHINESE – Ngo oiy ney a (Cantonese), Wo ai ni (Mandarin)
CORSICAN – Ti tengu cara (to a woman), Ti tengu caru (to a man)
CROATIAN – Volim te
CREE – Kisakihitin
CREOL – Mi aime jou
CZECH – Miluji te
DANISH – Jeg elsker dig
DUTCH – Ik hou van jou
ESPERANTO – Mi amas vin
ESTONIAN – Ma armastan sind
FAROESE – Eg elski teg
FINNISH – Mina rakastan sinua
FILIPINO / TAGALOG – Mahal kita
FLEMISH (WESTERN) – 'K zien je geeren
FRENCH – Je t'aime
FRISIAN – Ik hald fan dy
FRIULAN – O ti vuei ben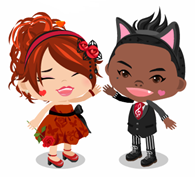 GALICIAN – Et vull
GEORGIAN – Me shen mikvarkhar
GERMAN – Ich liebe Dich
GREEK – S'agapo
GUJARATI – Hoo thunay prem karoo choo
HAITIAN CREOLE – Mwen renmen ou
HAWAIAN – Aloha Au Ia`oe
HEBREW – Ani ohev otakh (man to a woman), Ani ohevet otkha (woman to man)
HINDI – Main tumse pyar karta hoo (to a woman), Main tume pyar karti hoo (to a man)
HMONG – Kuv hlub koj
HUNGARIAN – Szeretlek
ICELANDIC – Eg elska tig
INDONESIAN – Saya cinta padamu / Saya cinta kamu
IRISH GAELIC – Taim i' ngra leat
ITALIAN – Ti amo
JAPANESE – Aishiteru / Anata ga daisuki desu
KABYLIAN – Hamlagh-kem (man to woman) / Hamlaghk (woman to man)
KANNADA – Naanu ninnanna pritisutteney
KINYARWANDA – Ndagukunda
KOREAN –Sarang Heyo / Nanun tangshinul sarang hamnida
KURDISH – Ez te hez dikim
LAO – Khoi hak tchao lai
LATIN – Te amo
LATVIAN – Es tevi miilu
LEBANESE – B'hibik (man to woman) / B'hibak (woman to man)
LIGURIAN – Mi te amu
LINGALA – Na lingi yo
LITHUANIAN – Tave myliu
LOW SAXON – Ik hou van ju
LUXEMBOURGEOIS – Ech hun dech gaer
MACEDONIAN – Te sakam
MALAGASY – Tiako ianao / tia anao aho (stronger)
MALAY – Aku cinta padamu
MALAYALAM – Njan Ninne Premikunnu
MALTESE – Inhobbok
MANX – Ta graih aym ort
MAORI – Kei te aroha au i a koe
MARQUESAN – Hinenao au ia oe
MOHAWK – Kanbhik
MONGOLIAN – Be chamad hairtai
MOROCCAN – Ana moajaba bik
NAPOLETANO – T'ammo
NAVAHO – Ayor anosh'ni
NDEBELE – Niya ku tanda
NEPALI – Ma timilai prem garchhu
NORWEGIAN – Jeg elsker deg
OCCITAN – T'aimi
PAPIAMENTU – Mi ta stima bo
PERSIAN – Doo-set daaram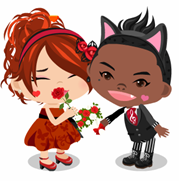 POLISH – Kocham Ciebie
PORTUGUESE – Amo-te
PORTUGUESE (BRAZILIAN) – Eu te amo
PUNJABI – Mein tenu pyar karda han (male speaker), Mein tenu pyar kardi han (female speaker)
QUECHUA de CUZCO – Munakuyki
RAPA NUI – Hanga rahi au kia koe
ROMANIAN – Te iubesc
RUSSIAN – Ya tebya liubliu
SAMOAN – Ou te alofa ia te oe
SCOTTISH GAELIC – Tha gaol agam ort / Tha gaol agam oirbh
SERBIAN – Volim te
SESOTHO – Ke ya ho rata
SHIMAORE – Ni su hu vendza
SHONA – Ndinokuda
SINDHI – Moon khay tu saan piyar aahay
SINHALA – Mama oyata aadareyi (spoken) / Mama obata aadareyi (formal)
SIOUX – Wastewalake
SLOVAK – Lu`bim ta
SLOVENIAN – Ljubim te / Rad te imam (male speaker) / Rada te imam (female speaker)
SOBOTA – Volim te
SOMALI – Waan ku jecelahay
SPANISH – Te amo / Te quiero
SUSU – Ira fan ma
SWAHILI – Nakupenda
SWEDISH – Jag alskar dig
TAHITIAN – Ua here vau ia oe
TAJIKI – Jigarata bihrum duhtari hola (man to woman), Tra lav dorum (woman to man)
TAMIL – Naan unnai kaadhalikkarn
TATAR – Min sine yaratam
TELUGU – Nenu ninnu premisthunnanu
TETUN – Hau hadomi o
TIBETAN – Na kirinla gaguidou
TURKISH – Seni seviyorum
UKRAINIAN – Ia tebe kohaiu
URDU – Mein tumse mohabbat karta hoon (man to woman), Main tumse mohabbat karti hoon (woman to man), mujhe tum se pyar heh
UZBEK – Men seni sevaman (formal), Men seni yahshi ko'raman (informal)
VENETIAN – T'amo
VIETNAMESE – Anh yeu em (man to woman), Em yeu anh (woman to man)
WALOON – Dji vos inme
WELSH – Rydw i'n dy garu di
WOLOF – Nob nala
XHOSA – Ndiyakuthanda
YIDDISH – Ich hob dir lib
YORUBA – Moni ife e
ZULU – Ngiyakuthanda