Written by ten.ten.
Hello everyone this is ten.ten. and to coincide with
Ameba Pigg:
2 year anniversary celebration I'd like to congratulate the Ameba Pigg team by sharing what makes Pigg special. For those of you who may not know, Ameba Pigg is the older sibling of Ameba Pico. While Pigg is older than Pico and has a Japanese interface that's not the
only
difference between the two. With over 2 million players there are good reasons as to why the numbers keep growing.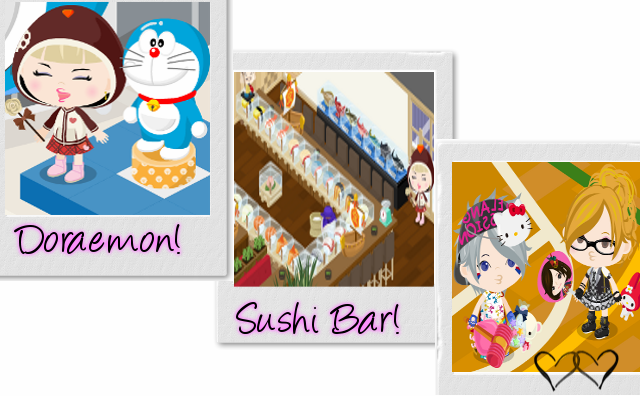 Get style.
First, I'd like to mention the
fashion and shopping
aspect of Pigg. One of the largest aspects of Pigg is the number of items it offers. There are new items added and rotated out fairly quickly! For the shop-a-holic it may murder your Pigg wallet but remember it's not in vain. Pigg frequently collaborates with real life companies and artists as well, such as
Sanrio
(including
Hello Kitty
),
AKB48
,
Disney
,
BAPE
,
AneCam Style
magazine,
Doraemon
, and even
Gundam Wing
! Pigg has over 50 shops and definitely meets the demands of the Pigg fashionista or interior designer.
Get loaded.
If you're over the age of 18 in Pico you may be familiar with the casino. Pigg being the older sibling takes things to a whole different level. Pigg allows players to purchase gems and when used during the game it gives the player an advantage unique to the game. For example, if you use a gem in Blackjack you will always receive an ace as one of your cards. Pigg recently opened the VIP area complete with new VIP items. You must be a Gold card member to even
enter
the area and maximum bets are up to C$25,000!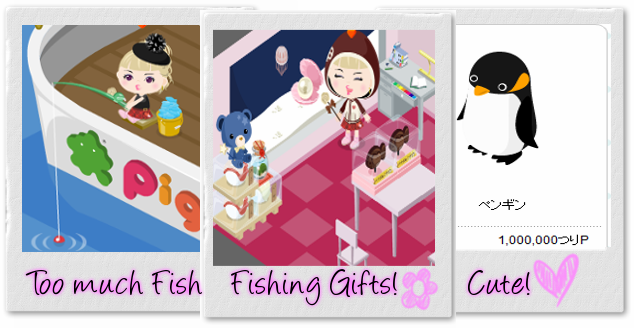 Get game.
Say you are under the age of 18, the Tsuri (Fishing) Game gives you a great sense of accomplishment. This game allows you to choose from 5 areas and 4 levels to play in. If you catch all the fish in an area you can unlock wonderful prizes and if you prefer you can even buy a pet penguin! If gambling isn't your thing then fishing gives you another niche to fit into.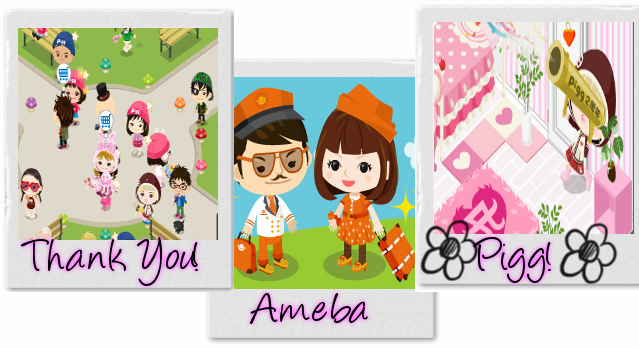 Get involved.
Last, but not least, are the players and the company. Pigg works very hard to constantly provide items and hold events to keep their members logging in frequently. Even Japanese celebrities play the game.
Ne-Yo
held a fan meeting event through Pigg, and on February 23rd
The Black Eyed Peas
will hold a Q&A session! Currently there are 3 events being held. Very recently Pigg will be opened a new area which NASA/Space themed! Please applaud Pigg for doing such a great job and if you ever find yourself bored on Pico remember Pigg is just an URL and a click away!
Join me!
ten.ten pigg ID: ☜ღαηgєℓღ☞