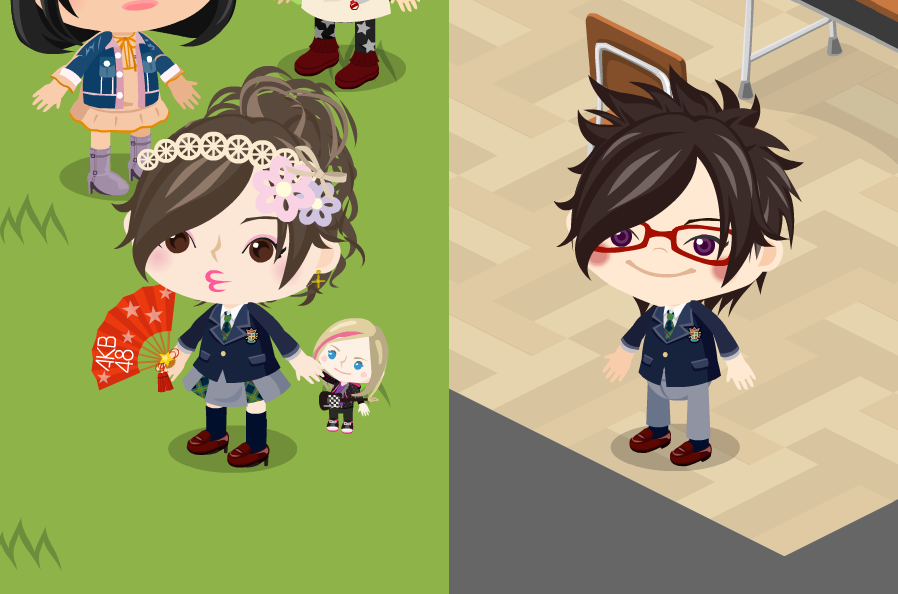 Those who play Ameba
Pigg
(the Japanese-language version of Pico) know that good items for Gummies (called "Ame"; アメ) are few and far between since most things in Pigg require Ameba Gold (called "AmeG") to purchase.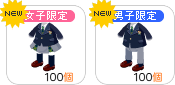 If you like school uniforms you might want to pick up the
newly released Shibuya Academy uniform
for 100 Gummies/Ame. There is a version for girls (with skirt) and a version for boys (with pants); both include shoes.
This navy blue and gray school clothing will only be available until March 31, 2011 in Japan (which is March 30, 2011 in North American time zones).
To get to the Shibuya Academy room, open your Travel menu by clicking the button. Look at the top of the list of destinations under the
NEW
heading. In the image below, the Shibuya Academy room with the uniform items for sale has a
pink
outline.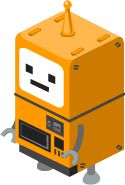 Once inside the room, look for the
orange
Type A vendor robot and click to make your purchase.
With your daily allowance of 40 earned Gummies/Ame, you should be able to save that up in a couple of days.
---
Japan Earthquake and Tsunami Relief
On a more serious note, please keep the people of Japan in your thoughts and prayers.
According to a
statement from the Canadian Red Cross
:
"On Friday March 11, 2011, an 8.9 magnitude earthquake hit Japan. This has triggered 4 metre waves in Japan and tsunami warnings across the Pacific coastline .... Hundreds of people are reported dead, and many more are injured or missing. The earthquake has caused fires and severe damage to buildings, leaving 4.4 million households without electricity."
In response, Google has created a
crisis response update page
for the Japan earthquake+tsunami disaster that includes the
Japanese Quake Person Finder
(available in Chinese, Korean, Japanese and English). This is a registry that allows people to share when they have received information that a missing person is alive or to create a record for a new missing person. There are currently over
33,000
66,000
337,500 records.
As I went about ringing people in Pigg today, I couldn't help but think that some of the people on my ring list may be displaced, missing or worse as of yesterday. Luckily, my friend fov1984 is safe and sound, but in reality many aren't. There are millions of people in distress.
If you or your family would like to donate to Red Cross disaster relief efforts in Japan:
From the USA

†

:

Donate online
Call 1-800 RED CROSS (English) or 1-800 257 7575 (Spanish)
Text REDCROSS to 90999 to make a $10 donation to help those affected by the earthquake in Japan and tsunami throughout the Pacific.
Mail in a printable donor card to American Red Cross, PO Box 4002018, Des Moines, Idaho, 50340-2018

From Canada

‡

:

Donate online
Call 1-800-418-1111
Text the word ASIA to 30333 to make a one-time donation of $5

*

Contact your local Red Cross office. Cheques should be made payable to the Canadian Red Cross, earmarked "Japan Earthquake/Asia-Pacific Tsunami" and mailed to the Canadian Red Cross National Office, 170 Metcalfe Street, Suite 300, Ottawa, Ontario, K2P 2P2.
†

Information source:
redcross.org
‡
Information source:
redcross.ca
*
A one-time donation of $5 will be added to your mobile phone bill. Standard messaging rates and additional fees may apply to donation texts. All charges are billed by and payable to your mobile service provider. This service is available on most carriers. Donations are collected for the benefit of the Canadian Red Cross by the Mobile Giving Foundation and subject to the terms found at www.mobilegiving.ca. You can unsubscribe at any time by texting STOP to 30333.