You have blessed my life with the kindness in your heart
and have replaced uncertainty with hope.
You are the caretaker of my dreams to come
and have helped me mend my broken wings
so I can fly
I can not imagine a future without you
to catch me if I happen to fall again,
and to walk beside me on the darkest nights.
While holding each others hand.
You have become my guiding star
To show me new tomorrows...
WRITTEN BY sweet_mom
My Pico Of The Day Is
ღ★*bill*★ღ
!
ღ★*bill*★ღ
and I met yesterday at one of the many new
CLUBS
that has opened here in Pico. As soon as we saw each other, we clicked
INSTANTLY
. We danced and danced like there was no tomorrow. We enjoyed each other's company so much that when the place started getting waaaay too crowded, we left the party to continue dancing in my room. He really is a great dance partner.
♬♪
ThAnK YoU BiLly
♪♬
Here is another
GREAT
dance partner. I think word has been spreading around that sweet_mom
LOOOVES
dancing, because many Picos will immediately start dancing with me when they see me. My good friend
Anil-123
from Turkey was not only a great dancer, but he is also
VERY FRIENDLY
and
OUTGOING
;)
Dear
et236
, when you said hi and smiled at me the other day, it was like recieving an unexpected gift that lasted me the whole day. Thank you for brightening my day
☆彡
With our friend
Rika-chan
the language barrier was not a problem to have fun. Like I always say, words are not necessary when
KINDNESS
and
SWEETNESS
can be felt in the heart
❤
♥~Pink Star~ ♥
has a cool club (
room
) where you can go and have a great time meeting new people and dancing the night away. That is where I met our friend
ღ★*bill*★ღ

.
Now, I am still not certain what she is, a
PIRATE, INDIAN, EGYPTIAN PRINCE

SS
, or a beautiful girl with hair of
GOLD
and eyes that look like the
SKY
... maybe she is all of the above ;)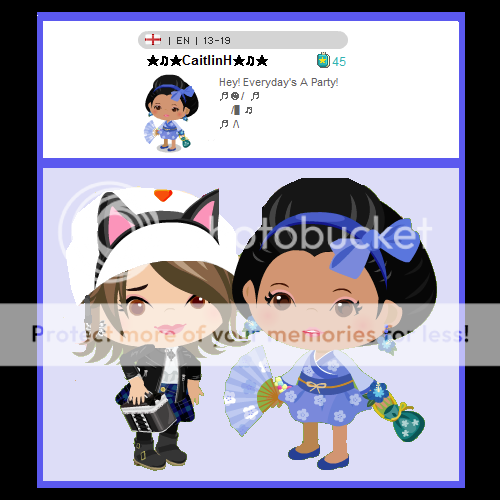 Have you ever heard the song
LADY IN RED
by Chris De Burgh. Well, our
friend
★♫★CaitlinH★♫★
is
LADY IN BLUE
. She looks very lovely from head to toes, don't you agree?
OH
,
PRINGLES Jr
, you really broke my heart :( You are the very first Pico that has ever ignored me when I asked for a little time to get to know you and take your picture. But you underestimated me,
I STILL GOT
YOUR PICTURE
: P and another thing, I still think you are
ADORABLE
:)
If you know me by now, you will know that I truly believe that
EVERY
person is beautiful for
GOD
creates
ONLY
beautiful people. What really attracts me the most to a person is their eyes. I like looking into a persons eyes when I am talking to them because I feel I am not just listening to what they are saying, but by looking into their eyes I can actually
FEEL
what they are saying. You can imagine how happy I was when I saw
japanese*'
s
eyes. Her eyes are absolutely gorgeous.
Til tomorrow, keep this in mind....
"Love is something eternal,
The aspect may change,
But not the essence." Vincent Van Gogh