Rabbit™'s ROOM
ROOM SIZE 12X12
Its a bird,
Its a plane
No, its
SUPERMAN
! oh, and
SUPER DUCKLING
!
And that's exactly what you will see when you visit our friend
Rabbit™'
s room and you look up to the sky.
The only survivor of Krypton has taken on himself to use his superhuman abilities for the benefit of humanity. Now, with his new companion
SUPER DUCKLING
, they have become the perfect team!
Rin.・'s ROOM
ROOM SIZE 12X12 (Room Found By Catero)
When
Catero
messaged me early in the morning and said to meet with him in
rin
.・
's
room, but to cover up because I was in store for a chilling visit, I had no idea what he was talking about.
As soon as I walked into the room, I felt the chill of the winter ocean slap me on the face completely waking me up. Soon, a beautiful
WHALE
surfaced from beneath the cold water, and in an inviting gesture let us know she would like to take us for a ride. With no hesitation at all, we immediately jumped on her back and were treated to an amazing experience we will never forget. Catero said the room reminded him of
The Marvelous Misadventures of Flapjack
from the Cartoon Network.
I was so glad I had taken Picolly (
my turtle
) with me. Not only does this beautiful whale inhabits this place, but Hotaru, Shinrei and Yuuki (
Rin.・'s three pet turtles
) do as well.
ggghott'S ROOM
ROOM SIZE 12X12
ggghott
's room is nothing more than
F

L

O

W

E

R

P

O

W

E
R
!
This beautiful room is a field of flowers in many colors. It is perfect for a relaxing afternoon and enjoying watching the butterflies play around.
Ðaяk Ðяεam๖ۣۜ♥'s ROOM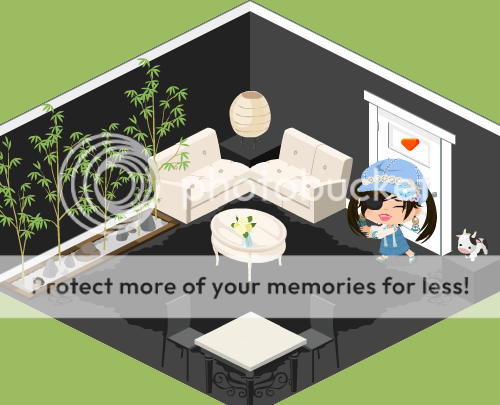 ROOM SIZE 8X8
My good friend
Ðaяk Ðяεam๖ۣۜ♥
has a "
SIMPLE ELEGANCE
" room as she calls it.
It is amazing how in a small area and with a few items you can transform something
SIMPLE
into something
EXTRAORDINARY
!
UPDATE:
My friend Ðaяk Ðяεam๖ۣۜ♥ has expended her room and amazingly redecorated it.
Wormwood's ROOM
ROOM SIZE 16X16
ROOM 1
Here is a room that literally took my breath away as soon as I walked in.
Catero
described it as very "
SERENE
", I describe it as the
MOST
beautiful "
NATURE
" wise room I have seen. The pond's water seems to be rapidly flowing downstream. You can almost hear it moving. Not only that,but the multitude of tiny flowers growing by the pond's bank, make a beautiful contrast with the water, complementing it to its fullest.
ROOM SIZE 16X16
ROOM 2
Now my friends, if you are up to exploring the high-skies, why not climb
Wormwood'
s amazing
TOWER?
It will take you way up and I guarantee you an amazing view from the top. Just wear comfy shoes because there's alot of stairs to climb.
ROOM SIZE 16X16
ROOM 3
Finally, if you are in the mood for shaking off the blues by dancing, head straight for the third room. There you will find an incredible club equipped with an amazing sitting area.
Til next time, don't forget to visit these weeks featured room owners and leave them a nice message for the incredible job they did in decorating theses AMAZING rooms.