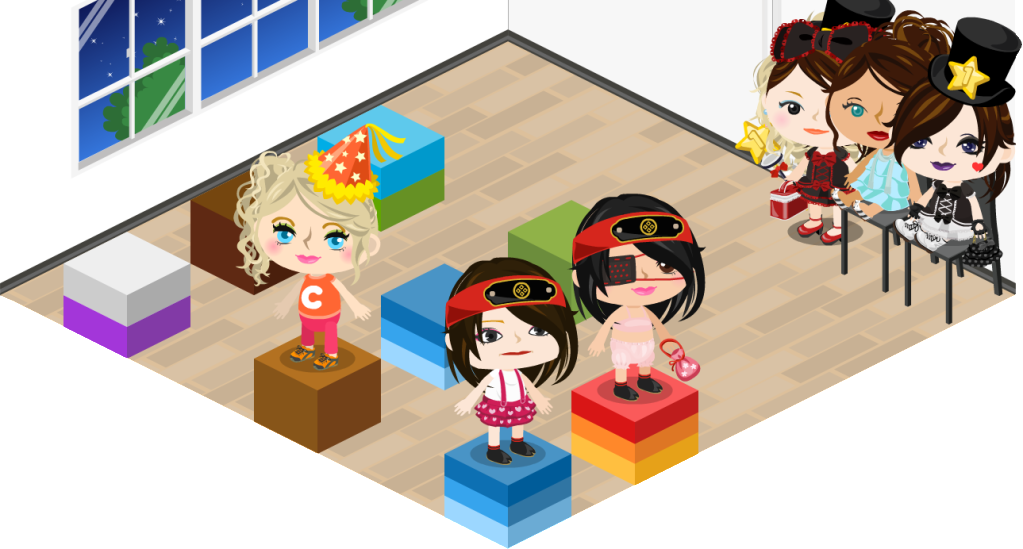 "Passion for fashion"
•
"Fashionista"
These are terms that we have all heard. In fact, for many of us, they are terms of endearment.
I couldn't begin to tell you how many Pico fashion shows I go to in a day! I have a love for fashion, simple as that. And based on how many fashion events I see a day, many of you do too.
There is nothing I love more than buying a new outfit with a special theme in mind. Of course - with the exception of trying that outfit on the catwalk and praying for good reception from the judges - there is always a thrill that comes from being in a room of girls and wondering who the judges will like. Not to mention seeing a creative new combination of accessories from your peers. You may see something knew that you find to be adorable. In a way it's exhilarating.
And then I opened an account with
Pigg
, Pico's Japanese counterpart and a door to a
whole new world
of fashion was opened up to me. Pigg, being a year older than Pico, is eminently more developed. It has a much wider selection of clothing for those of us who can't wait to get the newest pair of shoes, bags, etc. They have such adorable clothing for your avatar; much of which clearly bears the Japanese signature. I, for one, adore some of Japan's styles. This got me to thinking:
what new inspirations would I like to be Pigg's next fashion statement?
Pigg's New Look?
As I mentioned, Pigg originates from Japan, so why don't we keep with a Japanese motif.
Before you all call me a dork and stop reading this article, yes, I am a gamer girl. But please don't hold that against me. Take into account that even for video games, fashion is a big propriety. The game characters must be visually pleasing if the creators want the game to be successful. It is a fact we all want the best systems and best games with the best graphics. If it isn't pleasing to the eye, we generally won't even pick it off the shelf.
Video games spawn digital dressing dreams
So why not bring fashions into Pigg from successful Japanese video games?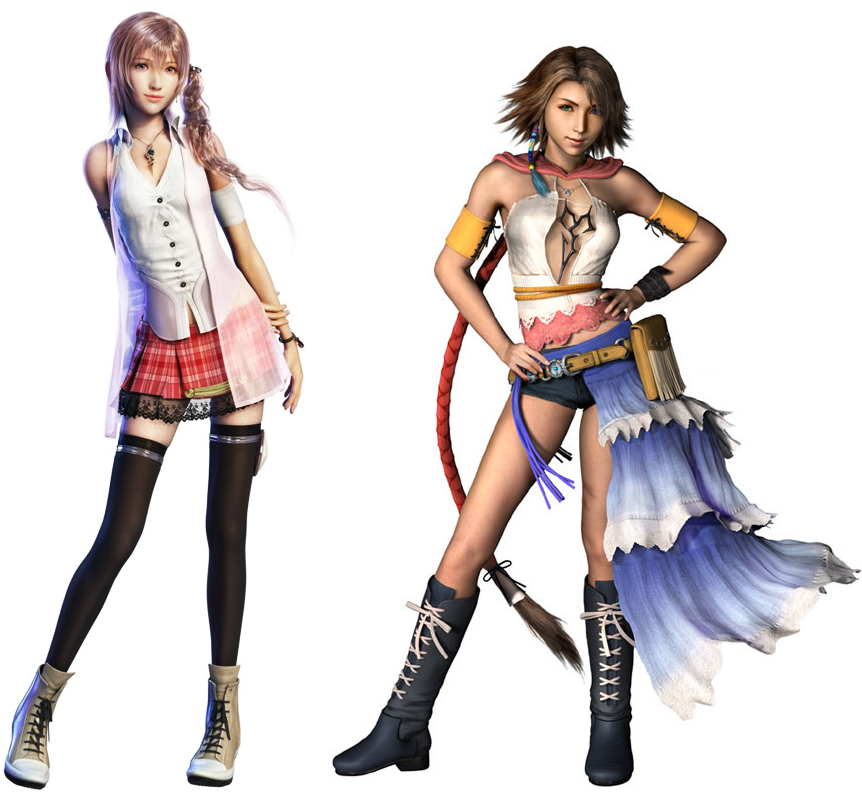 Take, for example, the
Final Fantasy
video game series.
Girls, imagine your Piggs
or
Picos in Yuna's outfit to the very right. The dark knee high boots, mini shorts, and hooded spaghetti strap shirt. Adorable? What about Serah Farron's outfit to the left? The light high top converse, long black stockings, pink plaid mini skirt, and white sleeveless button-up shirt. And don't forget their hair. How cute would your Picos look in wigs inspired by the hairstyles of these ladies?
Keeping up the uniform habit
Now, I have to give Pigg credit, they
do
have this next type of fashion. However, I would like to see a little more of it. More colors, cuts, styles. More overall variety. I'm talking about the Japanese school uniform.
"Japan introduced school uniforms in the late 19th century. Today, school uniforms are almost universal in the Japanese public and private school systems. In the majority of elementary schools, students are required to wear a uniform to school. Most boys wear a white shirt, short pants, and cap. Young boys often dress more formally in their class pictures than they do other days of the school year. Girls' uniforms might include a gray pleated skirt and white blouse. Occasionally the sailor outfit is used for girls."
— Source:
Wikipedia
The Japanese uniform has many varying looks and styles. I think a much more elaborate look on the Japanese school uniform in Pigg would be a great success. Perhaps even bring in some Japanese uniforms from popular anime and manga.
Cartoons are serious business
Now let's not forget my personal favorite: Disney! One of the biggest reasons I love Pigg is the collaboration between the game and Disney in the "Pooh Garden" Park room.
In this garden you can purchase cute purses, decor, and stuffed animals based on your favorite characters from Walt Disney's Winnie the Pooh.
But where did
Walt Disney
get his start? The answer to this question is known worldwide.
The 1928 animated short
Steamboat Willie
, in which Mr. Disney introduced what would become his most famous character creation, a now world-renown icon. "
It all started with a mouse" ...
Mickey Mouse, that is.
I would love to see a line of clothing in Pigg based on
more
Disney characters ... ESPECIALLY, Mickey Mouse!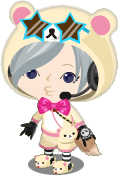 For example, many of you that play Pigg have seen avatars in themed animal hoodies like the one pictured to the right. Now, picture it in black-and-white with red shorts and cute Mickey Mouse ears!
How about Mickey Mouse themed furniture? I know
MY
bank account would be hurting.
Well, that's it for Light's Fashions this time. I would love to see some video game/Final Fantasy, Japanese school uniform, and Disney themed fashions.
I hope you are reading this, Pigg Administrators! ;)
What kind of fashions would you like to see grace the Shop catalog of Pigg and Pico?
Leave your ideas below in comments.
---
Photo Credits: Photos 2: Images of Serah Farron and Yuna © Square Enix • Photo 3: courtesy of animation.ru • Photo 4: courtesy of cosplayshop.ca • Photo 6: courtesy of goodday.com.