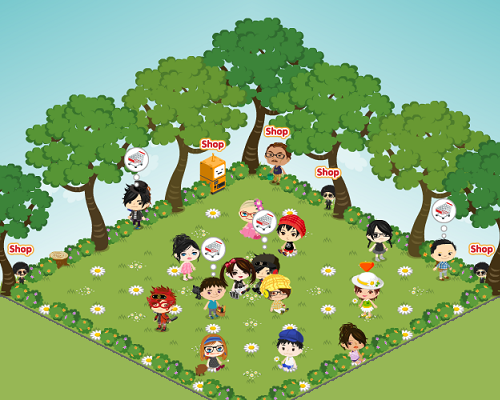 What a better way then to wake up to a fresh new Daisy day in Pico. No wonder they kept us out for a while. And to think I was already starting to lose my patience. Please forgive me Pico people! I'll try to be more understanding from now one... Oh yeah and also count to ten before I start losing my patience :
Now West Forest looks absolutely beautiful covered in daisies. No more creepy guys hiding behind the trees selling God knows what! Oh wait, those creepy guys are still around and full of energy. Have you seen them flip and jump :O Maybe it's due to having so many people visiting the area that they finally don't feel lonely... awww, poor little creepy guys, now I feel bad for judging them so harshly, LOL!
Anyways, Pico has decided to spoil us with a new flowers theme every month. Isn't that wonderful? So make sure you save some AG and gummies so you'll be prepare when new items arrive.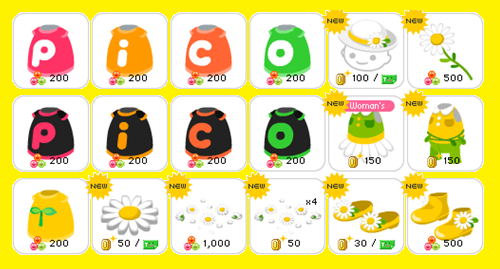 The new Daisy items are fabulous! I was glad to see that many Picos not wanting to feel left out from this Daisy fever were purchasing the HANDHOLD DAISY which is abailable for 500 gummies and dressing in their (already own) yellow and white clothing... what a great idea for the none AG users ;)
While I visited each West Forest park, I bumped into great people that were as excited as I was with this new Daisy fever. My good friend
Your Momma
was one of the many Picos I saw. She is absolutely adorable. I also got to take little naps with
白雪丸子 Nirvana
and
‖¥akuZa‖Tinkle
. Now
KUNCUNG..
was such the charmer while
• Bolo boloo•™
stole my heart away.
van mender C3
sat with me while we breathed the fresh daisy air and while
もるてぃた
pretended not to see me :P
۞
H.K.U
۞
薔薇少女
and
♫
.M.I
♫
-Sinta
were so sweet and friendly, while twins
Madam Pusit
and
•
【★renren=3=•
were the most photogenic Picos around. Finally my Pico of the day was
JOHN.LEMON!
She was adorably cute and sweet as a sugary cupcake.