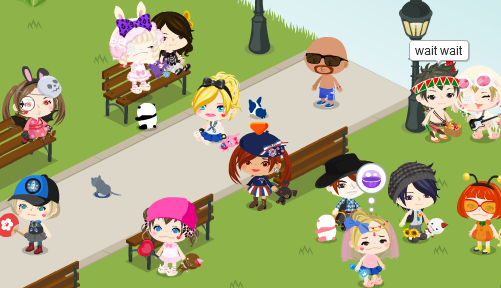 Hello my gorgeous Picos... have I told you that I ABSOLUTELY SUPER LOVE YOU!!!
There is something I want to ask of you and that is to write a letter to God. Open up your heart and tell him your fears, your sadness and your joys too. I always enjoy writing special letters to our Lord. Actually, a year ago Catero created a very special blog for me called "Laura's Letters To God". Don't bother looking for it, it is private :P
I just wrote a letter to God last night and posted it in my
SL: Lori Novo Blog
entitled
Your Unfailing Love
. :)))

Loooved it my dear l
ollita chan
, thank you so much <333
Pico Perfect
Roses are red violets are blue..
I love pico perfect, Don't you ?
-lollita chan
Dedicated to Sweets*, Owner of Pico Perfect Blog!
BTW; Your
Pico Happiness
blog its great :)))
Dear ❤ⓓⓔⓥⓞⓝⓘⓔ☮♀εïз™,
The only way you can get AmebaGold is by having your parents either buy it for you or completing surveys. However if they can't, don't be sad, there are alot of other great items that can be purchased with gummies or tokens.
ATTENTION Ameba Pico personal,
please make it easier for players to be able to get AG items with gummies or tokens.... most of your players are kids that can't afford to buy AmebaGold. Have a heart for goodness sake!!!

Hi
poop myosuski
, I think we ALL are pretty Picos... Ameba Pico is the land of the beautiful ;) I'll try to post something different from my Dear Sweets8 articles at least once a week.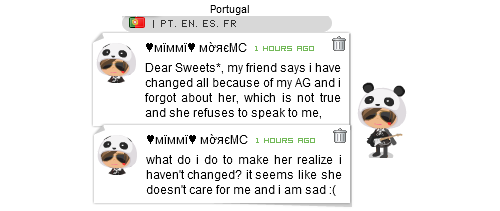 Dear
♥мïммï♥ мờяєMC
,
Maybe your friend feels a little left out in some way. But I do believe you care and love your friend sincerely because you took the time to write this letter seeking for help with your friend... this shows genuine concern to me. This is what a real friend does! I hope your friends sees this and realizes that she is more important to you than all the AmebaGold you get <333

Awww
¢нσ¢σηυт~❀♡™
, loooved your poem, it tickled my bunny tummy, thank you so much sweetie <333

Dear
>.- Huh?BOOOM
, yes I think you should apologize to your friend and tell her how much her friendship means to you. Hopefully in no time the two of you will be having
tons
of fun again :)))

Hi
JessyROO
,
It is so sad to me to see that nice Picos will change once they get AmebaGold, not all but many. We need to realize that having AG doesn't make us better than the rest. However I've known many wonderful Picos that no matter how much AG they have, they continue being kind and friendly, all my love goes to you <333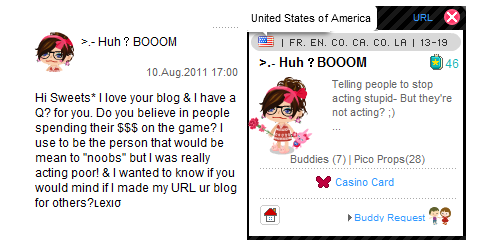 Hi again
>.- Huh?BOOOM
,
I honestly don't see anything wrong in spending "
some
" money on this game or any other as long as it doesn't get out of control. We are all entitled to have fun and enjoy what we choose as long as we are not hurting ourselves or others. Many people believe that the money we spend in "
any game
" is wasted money that could be used on other things, but don't we all spend our money in many other things that make us happy too? If spending a little money here is not hurting anyone and is making us happy, then I truly don't see the problem.
I am very glad and proud of you for changing your "poor" attitude as you say and becoming a wonderful Pico. And by all means, it is my honor you have added Pico Perfect Blog to your URL, I really appreciate it <333