Dear
иαтsuкιღкυgα
,
Love can be so complicated some times. I suggest you keep being good friends with this boy and if he is the right person for you, things will work out on their own. However if for some reason he seems not to be interested in you romantically, I don't want you to be heartbroken. The right boy for you will come to you when you least expected. ;)
Hi
❃Sтяaωвɛяяʏ
,
I have so far 39,030 Gummies thanks to all your rings and props, 9 Tokens and 215 Ameba Gold. At the moment I have no idea how I am going to be spending it. I was thinking in getting some blocks to add second floors to my existing rooms. :)

Dear
sicantik
,
OMG sweetie, thank you sooo much, but I think you are already so adorably cute! You are like 1 million times cuter than me ;)

OMG
potterhead
!
I totally agree with you 100%!!! I took my kids to see it and we thought it was the best ever. By the way, you look sooo adorable <3

Dear
Ⓐⓝⓖⓔⓛ☆¢upcakeღ
,
You're welcome my dear girl. Just give it all your heart and your blog will be wonderful. Best of luck to you <3
Dear sweets*,
is this real that pico's say that when they have 100 buddies they cannot add?
Or they just don't want to be my friend, it hurts.
Thank you.
Hi
~HannahMaePico
,
I do believe we are only allowed to add 100 buddies to our list, so please don't feel bad when someone can't add you anymore. However I have seen some Picos with more than 100 friends.... I wonder how they do it :O
Hello sweets*,
I created a family named l'amour meaning love in french.
I hope it will have many members because the objective of this family is to give love and save pico's that is victims of bullying.
Hi again
~HannahMaePico
,
What a wonderful idea! Pico's families, clubs and clans should stand for positivity and not like some I know that use their supposedly power and their group members to treat the rest of us as inferior citizens. You have all my l'amour and support <333

Dear
ⓢunflower
,
I know exactly what you mean. Most of my original Pico friends have moved on to new adventures, and the few left are no longer are part of my life :( Fortunately there are two things you can do... first, why not join some of your old friends in their new adventures! Second, see this new stage of your Pico life as an opportunity to make new friends and memories. I bet you'll make many special ones <3

Dear
ramona chan
,
It is always a great pleasure to talk to wonderful people like you and to see that you are always in high spirits. Everyday should be wonderful for all of us just for the fact that we are granted the opportunity to make a difference in someone's life every day :)))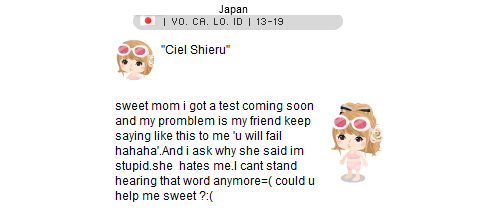 Dear
"Ciel Shieru"
,
Sweetie just ignore her. Don't worry about what your friend tells you and rather study hard and prepare yourself well for this test that I am pretty sure you'll be passing without a doubt. You and I and everyone that loves you know you are not "stupid" and she is the ignorant one for using such hurtful word with a good friend <3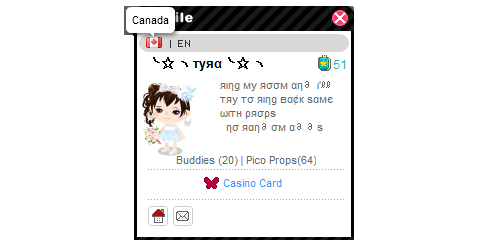 Hi sweets*
Can you please help me? i know this girl that happens to be friends with my friends. the problem is that she doesn't like me and when my friends are around her they start to bully me :( while she's gone my friends just act normal. what should i do? srry if it sounds confusing.
Dear
╰☆╮ туяα╰☆╮
,
I totally understand your letter. It is so sad that your "
friends
" are bullying you when this girl comes around. It makes me feel they are not very good friends to start with. Maybe they don't realize that what they are doing its hurting you. Talk to them and let them know how you feel and if they continue with this unacceptable behavior, I suggest you find new friends that won't be acting so foolishly by the influence of other people.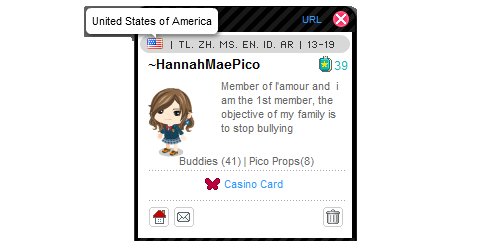 Hello sweets*,
I want to ask you a question, How do you know when you loves someone and when you hate someone?
I had a crush my classmate named ------- but i think he does not have a crush on me. And when i see him look at me, i smile at him, Is it a sign of being in love with someone?
Hi for the third time
~HannahMaePico
,
If when he looks at you and you smile at him and you feel butterflies in your tummy..... you are definitely in love <333
But if when you look at someone and in your tummy you feel nausea instead of butterflies that means you hate them.... LOL, just kidding! I think you are too young to hate anyone and anyways "hate" is a very strong emotion that only serves as poison for the soul. I believe we all my dislike some people and maybe sometimes even SUPER dislike them, but I don't think we hate :)
My good friend
Virtualandy Capra
from Second Life wrote something especially for you last night when I told him about your question on
"HATE"
. :)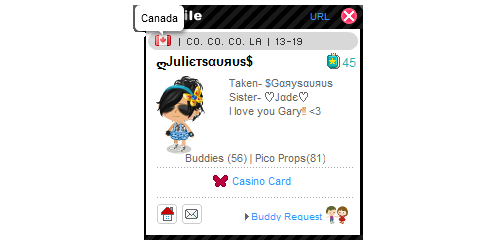 Dear Sweets*,
I LOVE yuor blog! But I need some advice. I'm trying to make a nightclub but i don't really know where to start! Can you give me some tips?
~Juliet
Dear
ღJuliєтѕαυяυѕ$
,
I recommend you visit some of the Picos' rooms that have been transformed into night clubs. This way you can better get a visual idea of what a club looks like. Don't copy their style but be inspired to create something based on your own personality. A good night club should have spacious area for dancing. You don't want your guests to be bumping into furniture while they are having a good time. Don't forget that a good seating area is part of a club. Sometimes people attend clubs not to dance but to chat with friends. Just make sure these sitting spots are either to one side of the room or even around the dancing floor. The DJ's station is one of the main focus in a club. This should be on a higher level floor so people can easily spot him/her in order to make their requests. Just use your creativity and let it run wild... you might just create the best Pico night club ever!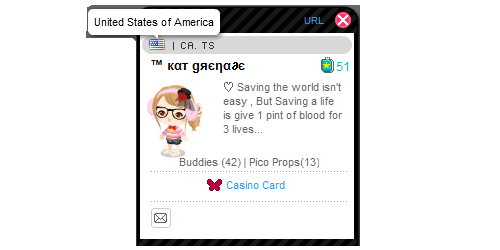 Dear Sweets ,
I have a huge problem that makes me cry when i think about it ! My Friend ,she turned emo and she's not herself, she had a horrible heart break and lost a bff She's not her self i can't stand to have a buddie sad >D: it makes me Sad What Do i do ?!? Please help i miss her spirit and her preppy personailtliy love ™ кαт gяєηα∂є
Dear
™ кαт gяєηα∂є
,
I am very sorry to hear that your good friend is going through a rough time. I do believe your friend might need some time to grieve the lose of her bff in order to get better. Just continue giving her all your love and support and always be there for her. Prayers are the best you can do for someone you love. With time I do believe she'll start getting better since time heals. She'll slowly learn how to better cope with her pain and when she see that she has in you a wonderful friend she'll smile again :)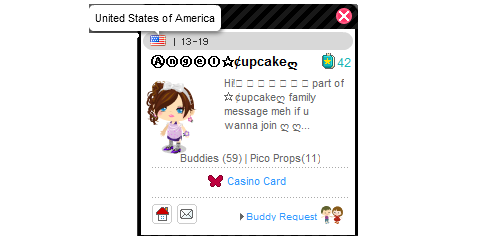 Dear sweets'
One of my friends(irl) just told me she didnt wnt 2 be ma friend anymore:( we r bffs forever untill she said "i dont like u tht much n i dnt wnt 2 be ur friend bye" she said it thru text 2:((( how can i feel better?
Dear
Ⓐⓝⓖⓔⓛ☆¢upcakeღ
,
If your friend wants to end your friendship at this point, it is best to let her go. It's never good to hold on to someone that no longer wants to be part of our life. Unfortunately sometimes friendships end and we are left behind not knowing what to do. We learn to love our friends and believe they'll be staying in our lives forever and when this doesn't happen we feel a big sense of loss. However, life goes on and so must we. Life is full of wonderful surprises around every corner and we must keep our spirits up at all times. Just be open to friendships and in no time you will make new wonderful friends ;)