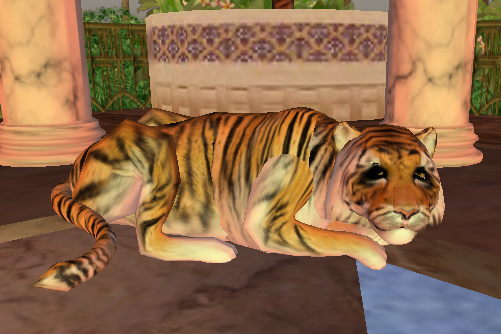 Finally yesterday I was able to get back into Pico. I had been trying and had failed every day for a while now. I was starting to wonder if my account had been hacked. Yesterday very early in the morning, around 6:18 a.m. to be exact, and after not being able to sleep all night from feeling so guilty of having left you all alone for so long, I poured myself a huge cup of hot coffee and sweetened it with chocolate and sat in front of my computer determined to find the way back in no matter how long it would take me. After almost an hour, suddenly I saw how I was magically let back in. You can just imagine how happy I was :)))
Now that I am back, I'll get back to doing what I love the most, and that is to WRITE for all my Picos!
I am still sick with a nasty cough that doesn't want to go away with anything. I been coughing for weeks non stop and breathing is getting very hard for me to do. So I need to take it easy.
BTW, have you met my new Second Life pet? This is
Toh
, my beautiful tiger. Please make sure you read all about him in my SL: Lori Novo Blog. If you are wondering why I named him Toh, Toh was what Catero and I used to call each other :) It's a long and sweet story that I might share with you in the future.
Speaking of Catero, today it's his birthday <3 Make sure you post some birthday wishes on the comment section of this post. Hopefully he'll see them :)
Well, now you'll be hearing from me again every day or at least ALMOST everyday ;) SuPeR LoVe YoU <333