"You should know there is a time of year,
When the witches and ghost appear.
They come at night
When there is no more light
Halloween is almost here!"
These are some of the lyrics to a Halloween song I would sing to my kids when they were younger. What an exciting night that is for all sweets-lovers. I don't mean sweets as in me.... but as in candy you silly willies. Today when I logged in and noticed that the Halloween Park had opened I couldn't wait to go check it out. I chose Mr. Tickles for this visit, but I guess no pets are allowed. Sorry Mr. Tickles :(((
Yay, a friendly ghost! Could this be Casper?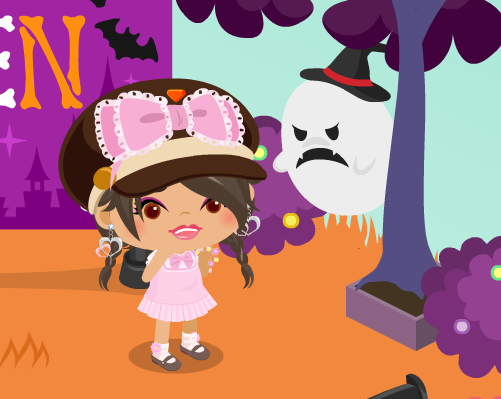 Are you mad? :(
Hey
"Ciel Shieru"
and
Megsy Átomos
,come and help me carve some jack-o-lanterns for Halloween.
Mi Cielo always showing me her love, thank you sweetie, love you too <3
farashaa
you are absolutely adorable. To bad you only speak wavy language. I didn't understand a single word you said :P
As you can see,
❤Choco❤๑Ṥắɱắ๑
is ready to go trick-o-treating.
-----------------------------------------------------------------------------------
Make sure you visit this cool Halloween Park. You will find many great Halloween items available at the shops and gacha machines to help you make your Halloween day spooktacular!