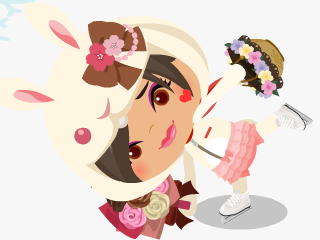 OH LORD!!!!
WHAT HAPPENED TO MEEEE?
WHY AM I SOOO LITTLE :/
I mean my picture is so small compared to how you are used to seeing them, but what can I say..... I got a
BIG
Mac, hahaha sillies, not a Big Mac from Mcdonald's but a Mac computer and its
HUGE
and I am sooo loving it <333.
Gosh,
four months
really went by sooo fast! It seems like it was less than two weeks ago that I was crying over my dinosaur's (
computer
) finally dying on me...... heyyyyy, IT WAS less than two weeks ago! So what happened???
Well, the truth of the matter is that I am lucky enough to have wonderful people in my life that came together and a little here and a little there, in less than two weeks I was able to raise enough money to replace my dinosaur. Don't worry, my old computer sits in a corner of my room. We've shared sooo many good memories that I can't seem to be able to part from it.
OMG, does this mean I am becoming a hoarder???
Anyways, I listened to my daughter Natalie when she said....
"Natalie loves you!
& your computer sucked anyway... get a Mac!
♡
.... and I got the Mac :P With this machine
I believe I can fly, I believe I can touch the sky, I think about it every night and day, spread my wings and fly away!
No wait! this is a song :/
Anyways going back to why my picture is so

small

. I'm still trying to learn the Mac and I haven't figured out how to take good BIG pictures in Pico. Hey, I am not ashamed to admit it... OK!!! :PPP
I also want to thank the great friends and family that helped me get my Mac. And last but not least, I want to thank
Gαв ℓαяαмıє from Ameba Pico, Poppy Ghostraven, Sweet G and ChEo from Second Life for their constant help and patience in helping me figure this "thing" out. But I would like to especially thank my beautiful and wonderful daughter Natalie for always encouraging me to do and get the best and for sitting next to me everyday to teach me something new on my new Mac.... Love you my angel <333
One last thing to mention, Sweets* is back to stay! I am fully armed to continue with my writing for all of my wonderful Picos. See you tomorrow <333