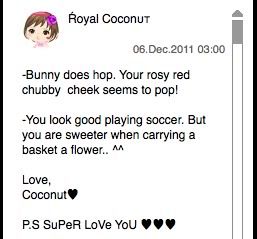 Thank You
Ŕoyal Coconυт

for the poem
, Super Love you too
<3
3

3
I bet you are referring to my look from yesterday.
Kimchi♥


From Republic Of Korea
YAAAYYYY!!! You're dinosaur is fixed!! YEEEEEYEEEE!! sorry im overeacting! i only seen u once in my pico life! I want to see you again Sweets* Maybe because we are opposite time zone! Anyway myold name is кιкι♥ hope u remember me when i met u start to cry tears of joy! LOVE YOU SWEETS* !!!
oops! i just realise i made mistake in my last letter. u got new mac not fix ur dinosaur! anyway i still hope u can fix ur dinosaur someday! from Kimchi xoxo
Hola,
Yesss, can you believe that? Now I am truly armed and dangerous with my new Mac, so watch out world!!!
Hahaha, just kidding :P
and you'll be glad to hear that I am not ready to give up on my dinosaur. I am searching high and low to revive it, though I think I may need a miracle for that.
Super Love You Sweetie <3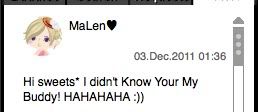 Hahaha MaLen♥

:PPP
But isn't it great?


OMG

A.L.I.S.H

,
Thank you so much for your kind words. I am glad you like it :)))
And I will start answering letters from now on. Unfortunately, I will only be posting one or two a day and the rest I will answer by letters.
Super love you and keep reading ;)