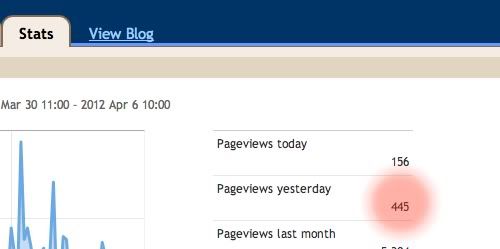 Remember my song from yesterday
What's Up
by 4 Non Blonds?

Well, I guess I'll be playing it all day again today since I am very confused.

Do you also remember the
The Sweet Life... Comics by Sweets*
where I ask you to send me your ideas of how to answer to an "isn't it obvious" question,
Did you cut your hair?
Guess how many I have received so far?
Come on guess????
So far only two :(

At first I was thinking that maybe not many people were reading the blog so I decided to check the status and realized that we had over 400 yesterday. The photo above is proof of it :P
And we been getting around that same number for a few weeks already, 350 to close to 500 views per day.
YAY!!
thank you, thank you, thank you <333
And a big shout out to my wonderful team of writers, Ciel Shieru, Gaby and Madi Poo.
SuPeR LoVe YoU<333

I am hoping that my girl Maya will join us again very soon. Miss you sweetie <3
Another great writer that I am praying to get back is our cutie-picotutie Romeo ;)
COME BACK ROMEOOOOO!!!

Anyways going back to what I was saying before,
I think you all are just being shy and that is why I have only received two replies to my hair thingy :P
But I am not giving up.
I will continue to create post with questions, challenges games, etc.
Tomorrow I will post the 2 replies I have so far. Hopefully by then I'll have more :)

ADIOS AMIGOS <333