This is a
FUN
outfit I put together, combining the boots with the jacket ( my favorite things to wear) and adding a winter knit hat, for this chilly days here in Texas, USA. The striped skirt adds a youthful touch to the whole look. I finished it with my Hawaiian Da Kine Ukulele which makes me ready to go hang out with my friends and sit around the fire for a night of fun.
My pink princess gown is perfect to create a
Victorian-Kind-Look
by adding a jacket and finishing it up with the Tiny Sunflower Hat decorated with my sweet flower Prom hair clip.
This is my "
Pirate Rocker Look
"! I been asked many times where I got this particular hat. This awesome hat is available at The Carribean Seaport in Abel's shop for the price of 250AG . I finished decorating it with an "Ikushima" ornamental hairpiece that can be purshased at Ooku Living Room in Edo (Travel Time) for the price of 60AG/ 1 Token.
This is one of my
"Good Girl"
looks. I am starting to looove hats and wigs aswell. You will start seeing me with different hair styles from now on. The striped Lolita Border socks add that fun finish to the sweet look.
And finally this is one of my latest looks...
THE BOYISH LOOK
... I looove, looove this style. Notice I am starting to wear my eye-patch again. I had giving it up when I quit PicoStyle, but people keep telling me they want me to wear it again, sooooooo the EYE-PATCH and BUNNNY/CAT EARS are back to stay!
Now here are some Picos with great fashion styles!
Beautiful
Ƹ̵̡Ӝ̵̨̄ƷЯόşε decided to only wear black and gray for her outfit which make her look kind of Gothic, and yet by adding a Lolita big bow to her knit beret she has managed to add some sweetness to her look.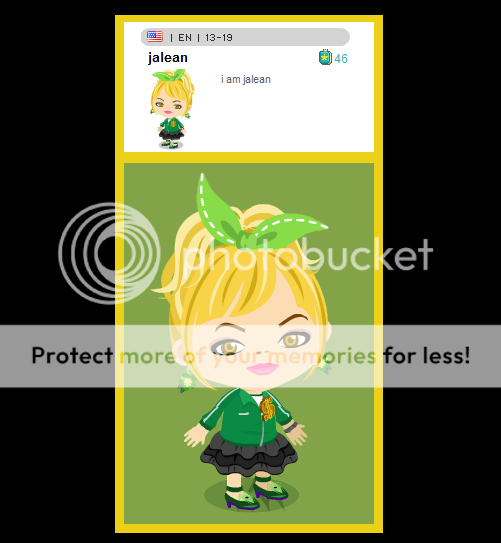 Our friend
jalean
is breaking the rules of fashion and still manages to come out looking like a MILLION DOLLARS! She has combined the Bourgeoius Peacock Feather Hills that we all want with the fluttery Bohemian skirt, which looks great together, but than she finishes her outfit with a green academy jersey jacket...
:O
And yet she looks
AMAZING
!
๑
۩۞۩
ь
a
ву
۩۞۩
๑
is wearing all gray, but his electric guitar, white Blissful Angel Earmuff and Gothic Rose HAT, are what makes this outfit GREAT! I'll be copying this look soon for sure ;)
☆maron

★
looks like a
BOW
Princess with her red bows and red shoes. She looks lovely and sweet as a baby's smile. I tried to duplicate her look , unfortunately on me it did not work :(
Finally our beautiful friend (fr?fl? fg?).... OK... Ok....Sorry I didn't get her name :( Well our friend ? is the
LADY IN BLUE
, just lovely, I looooove how she decorated a Pirates bandana (which you can find at Carribean Seaport for 2,300 gummies) with a sweet flower Prom hair clip, the result....
BEAUTIFUL
!
Til next time
"LOOK GOOD, DO GREAT and FEEL FAB!"