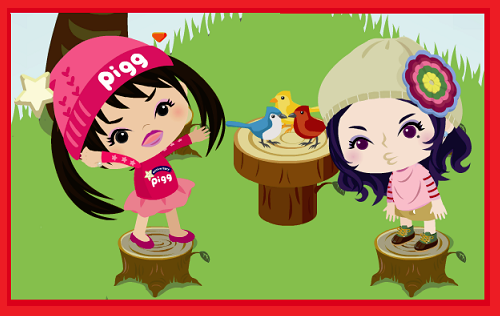 sweet_mom (Pigg ID: sweetlaura) and Catero (Pigg ID: grapheme)
After months of encouraging me to join Pigg, Catero finally succeeded. This past Saturday he stayed up with me till wee hours of the night, walking me patiently through the difficult steps of registering and becoming a new member of the Japanese Pigg game (Pico's older brother). The language was totally a mind breaker for me and though I used Google Translate there were moments I was about to pull my hair out and - if Catero had been next to me - his too!!!
Calmness came after I finally completed the steps and was welcomed to the Pigg World. Catero, as the wonderful friend he is, was waiting for me on the "other side" ... no, sillies, not on the other side of the lighted tunnel but on the other side in Pigg. :P
He immediately started showing me around and teaching me things I needed to know to survive this new foreign world. These are some Pictures I took of my two first days in Pigg....