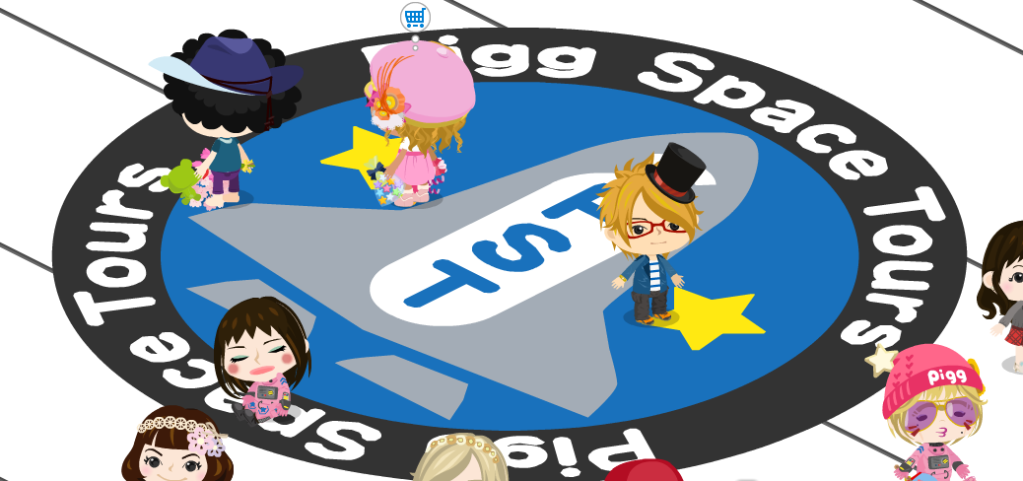 You may not be able to afford the US $20-35 Million needed to charter a seat on a galactic airline service like
Virgin Galactic
to enjoy the miracle of human space travel. Luckily, in
Pigg
(Pico's older Japanese-language "brother") you don't have to live a lifestyle of the rich and famous to enjoy wondrous
space tourism
. If you log in and mingle regularly chances are you have the 500 Gummies (called "Ame" in Pigg) needed to go on a kawaii space adventure.
On February 17, Pigg "lifted off" with 3 new outer space (宇宙) theme rooms: Pigg Space Center (ピッグ宇宙センター), Pigg Shuttle (ピッグシャトル), and the Moon (月). The Shuttle and Moon rooms are connected to one another and can only be accessed by purchasing a space suit.
These rooms will only be open until Sunday, March 6, 2011 for North American times zones.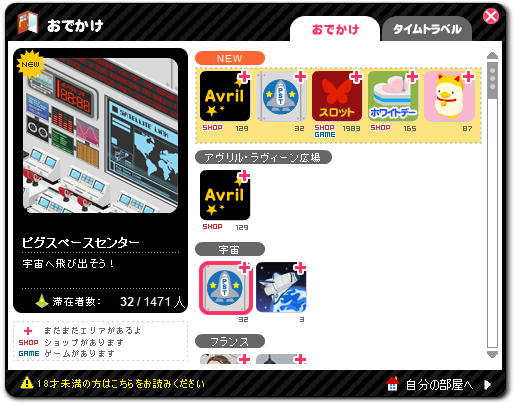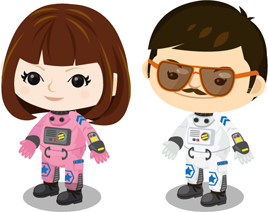 Space suits come in white-and-blue suits for the boys and pink-and-blue suits for the girls. From February 19 to March 2 the suits will be available for 500 Gummies.
After March 2 at 11:30PM PST players will have to pay a whopping 3,000 Gummies to venture into space until March 6 when the rooms close forever.
Since a prop ("guppigg") will get you 1 Gummie, a ring ("kitayo") will get you 1 and your daily clothing change will get you 3 ... collecting 3,000 could take a very long time. So, get the suit while the price is more affordable.
It took me severa; days to turn my 160 Gummies into 500, considering the maximum daily 40 Gummie earnings allowance. I got out to many of the parks, propped everyone in the room and waiting for them to return. I then went to each of their room and rang each of them, hoping they would reciprocate. My strategy paid off!
Let's take a look at each of the 3 rooms!
Pigg Space Center
This is the hub of all astronaut activity. This is where you purchase your space suit, your "boarding pass" to outer space adventure! You can also buy many souvenir hats and t-shirts (for Gummies), as well as furniture items and uniforms (for AmeGold).
View a photo of all the items you can buy here
.
The center is lit up with seated consoles and wall-mounted digital displays to monitor each launch sequence. Stick around in this room long enough and you'll experience the ground shake as another shuttle lifts off. You can watch through the large observation windows.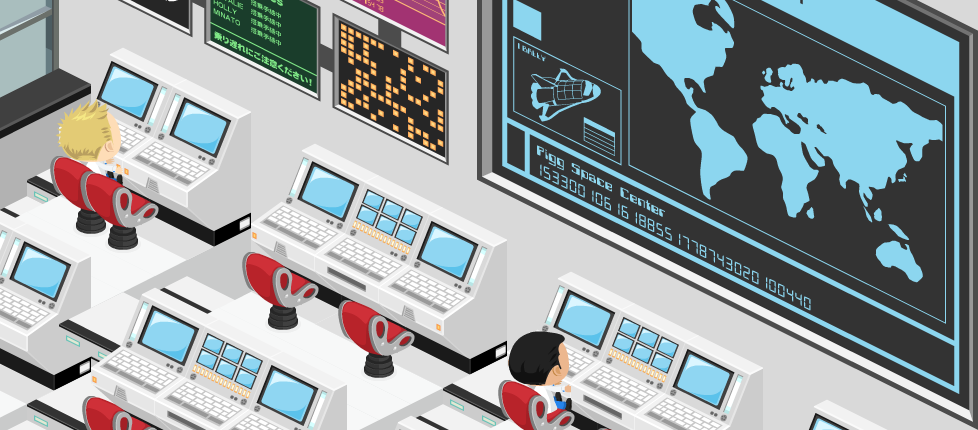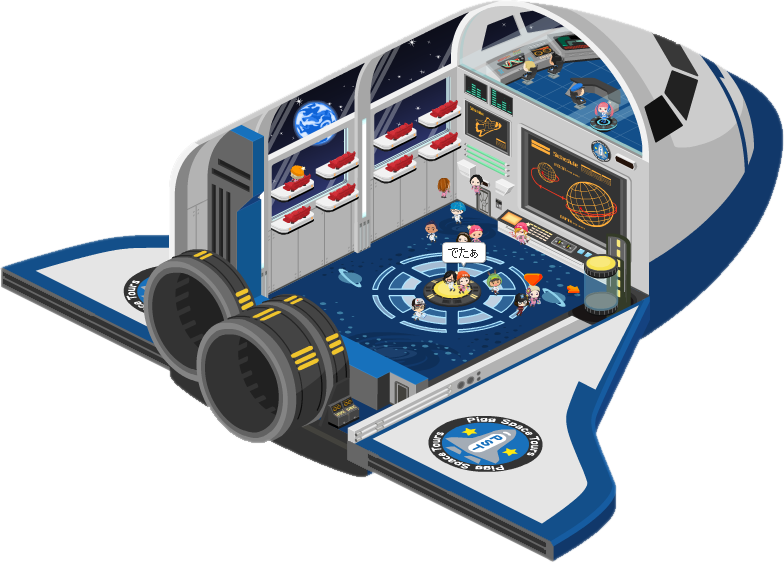 Pigg Shuttle
When you enter this interstellar aircraft you will find yourself in a zero gravity environment. Your Pigg character will float around in mid-air.
You will be greeted with a menu of 2 special actions that will load on your screen. These will allow you to do a barrel roll and drink water from a plastic water bottle ... that is ... if your lips can catch them in bubble form.
Through the observation bay windows you will be able to see that bright blue orb that we call home. If you're
really
lucky you'll even glimpse a flying comet.
ten.ten.
(Pigg ID: hapibirthdaytomi) gave me an interesting hint while we were talking about the new space rooms. She said that if enough people say the punny phrase 月を楽しムーン (translates to "moon fun" in English) in public chat a hologram of the Pigg (and Pico) mascot - that nondescript snowman or panda or dog character - will show up. Though the exact amount of people required is unconfirmed at this point, ten.ten. and I suspect it might be 5 or 10.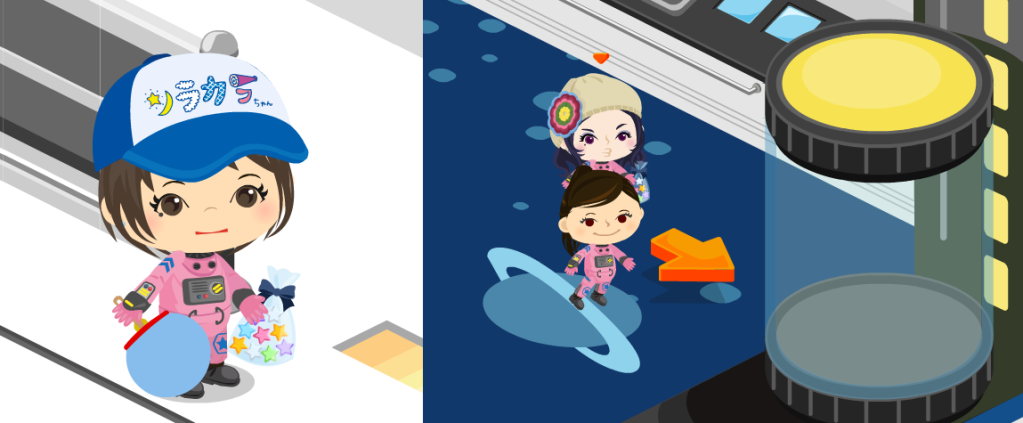 The Moon
Making your way to the bottom right of the Space Shuttle, you'll find a transportation tube. Get close and click the
orange
button and you'll be instantly teleported to the moon's surface where you can once again stare down at our little planet to ponder the meaning of Pigg life.
In this room you will also be greeted with a menu of actions - this time 3 - that let you activate the boosters on the back of your suit, plant a flag on the moon, or blackflip.
Visitors to the moon can hop from crater to crater. Amidst the lunar rover parking lot and mysterious silos you'll find that there's also a shop up there - capitalism is everywhere these days! Regardless, you can buy a jaunty little action that's cute and girly. I'm not sure how it related to "moon fun", but I used my last Token/Coupon and got it anyways.
All in all ... it's definitely a fun experience, definitely worth the 500 Gummies. I'll sign of by simply saying ... "
Piggs in Spaaaaaaace
"!
Photo credit: Space suits models photo © CyberAgent Inc.
---
Read more about the outer space rooms in Pigg: