Recently,
news outlets announced that the official color of 2011
is a bright and vibrant
Honeysuckle Pink
(
PANTONE 18-2120
). Pico and Valentine's Day are starting us off in the right spirit with new limited items in February, available until the 17th.
It looks as though Pico will not be drenched in nearly as much
chocolate
as
Pigg
this V-Day ... but don't despair! We will still be able to get our hands on some
really
great stuff.
This morning's early
server maintenance
brings us
Valentines Park
with a new shop, Gacha and -
yes, you guessed it
- Premium Gacha AG items.
It will be nearly impossible for even the coldest of hearts not to be warmed over by the limited edition keepsakes. A "Blow a Kiss" actions (along with the "Dance with me!" and "I'd love to" actions from July's Prom 2010), heart cheek tattoo, fancy clothing, heart-shaped chocolates on a stick and cupid's arrow are sure to pierce your heart. You'll find many items to dress your avatar, decorate your room or fill your belly.
Shop items (at RO80 Type LUV):
Gacha items:
Premium Gacha AG items: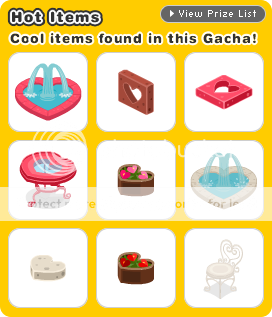 More new developments also include ...
More offers to earn Ameba Gold through SuperRewards, a new offer provider of digital content. Read more »
The ability to purchase Ameba Gold using your mobile phone through SuperRewards. Read more »
"Head bubbles" with Shop or Gacha items to indicate that a Pico avatar is currently engaged in the respective activity.
Click image to enlarge