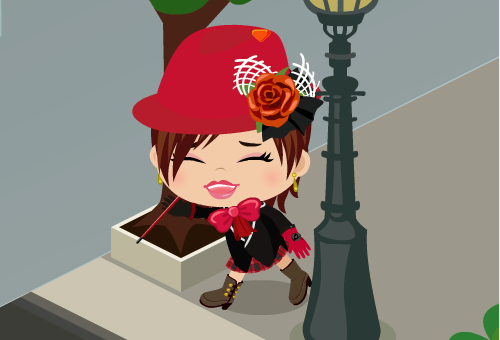 Actions used for pose; Renkan-Ken #11 and Smile
Yesterday I played around with my closet items trying to put together a "
good
" outfit to wear for the day. The final results brought me a large number of compliment that I have been receiving in letters/messages and whispers. Many which are to ask me what exactly am I wearing or simply to let me know that I look great.
Even our own
Fashion Queen
,
Peggy Hill
honored me yesterday when she said to me, "
Sweets*, I am digging your look!".
I have listed below all the pieces you will need to duplicate this look. Unfortunate, the
Happy Bow Tie
its no longer available but you can always substitute it with something else or just do without.
Champs-Élysées Room in France
* Elegant French Long Gold Button Boots 80 AG/ 1 Token
* Beautiful French Two-Tones Gloves/ Rd 80 AG/ 1 Token
New York City Downtown
(
Paul's Shop
)
* Tartan Checked Skirt/ Rd 100 AG/ 1 Token
(
Vivienne's Shop
)
* Elegant Gothic Aristocrat Jacket/ Rd 90 AG/ 1 Token
SHOP
(
Catalog Order
)
* Golden Tear Earrings 30 AG/ 1 Token
Gothic Mansion
(
Premium Gacha
)
* Rose Corsage with Ribbon/ Rd 50 AG Spin
* Special Gothic Stick/Bk-Rd 50 AG Spin
Beginner's Plaza
(
Robo: Type F
)
* Classic Dandy Hat/ Rd 1,500 Gummies
No Longer Available
* Happy Bow Tie/ Rd (sorry)