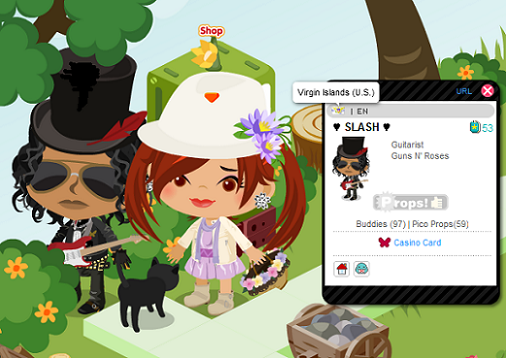 GEEEZ!!! I am seriously still starstruck and speechless with such a cool celebrity I bumped into when I visited Frontier Park yesterday. The one and only Slash from Guns and Roses :O Unfortunately, he didn't even notice me. I kept jumping up and down and waving my arms in the air but he kept still, almost as if he wasn't breathing, just like those statues you see at art museums.
I wonder if he was ignoring me and thought that if he showed no sign of life I would go away. I actually did go with my little Pico heart all broken after all my attempts to attract his attention failed but not before I managed to take a picture with him. :P
Better yet, I choose to believe that he just didn't see me due to the dark sun glasses he was wearing. Whatever the reason, this super cool rock lead guitarist is definitely dreamy <333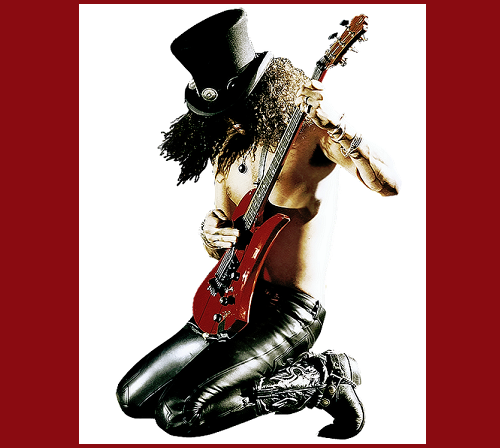 PHOTO CREDIT:
daralteeb.com
Saul Hudson (born July 23, 1965), known by his stage name Slash, is a British-American musician and songwriter.[1] He is best known as the former lead guitarist of the American hard rock band Guns N' Roses, with whom he achieved worldwide success in the late 1980s and early 1990s. During his later years with Guns N' Roses, Slash formed the side project Slash's Snakepit. He then co-founded the supergroup Velvet Revolver, which re-established him as a mainstream performer in the mid to late 2000s. In 2010, Slash released his eponymous debut solo album, featuring an all-star roster of guest musicians.
Slash has received critical acclaim as a guitarist. Time named him runner-up on their list of "The 10 Best Electric Guitar Players" in 2009,[2] while Guitar World ranked his solo in "November Rain" No. 6 on their list of "The 100 Greatest Guitar Solos" in 2008,[3] and Total Guitar placed his riff in "Sweet Child o' Mine" at No. 1 on their list of "The 100 Greatest Riffs" in 2004.[4]
Credits:
http://en.wikipedia.org/wiki/Slash_(musician)