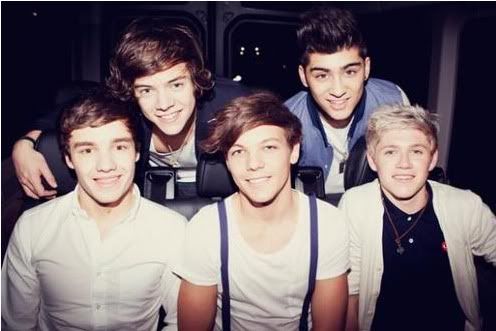 PHOTO: Google Image Search


Now
LET'S HEAR IT!!

Who likes cute guys that come in a set of five and sing like the angels?
The ones that make you feel butterflies and scream in a high annoying pitch voice every time they appear on TV.

ME, ME!!!

Sorry,
that was Natalie, my daughter screaming on top of her lungs standing behind me :P

Sweets*:
Natalie stop screaming


Natalie

: I do, I do


Sweets*

: Stop running around like crazy. You are making me dizzy.


Natalie

: But mom, they are soooooo cute!


Sweets*

: Calm down and tell me, who is your favorite of the five?


Natalie:

They all are!


Sweets*: No no, there must be at least one that you don't like that much.
Natalie

: Mother please, four are British and one is Irish, what is there not to like!


Hmmm,
I guess she has a point there :)
Plus these kids really have style when it comes to fashion.
.
So this post and song of the day is dedicated to Natalie my daughter and every fan of this wonderful band.