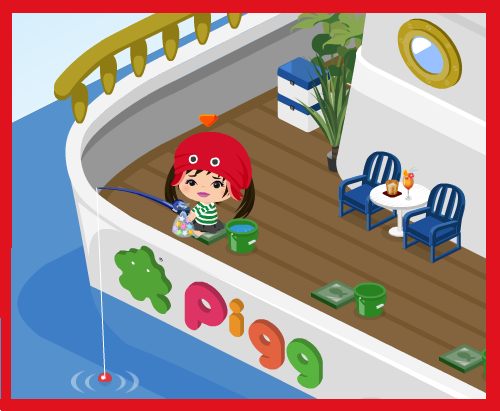 I don't know about you, but I love going fishing; and I am talking about it in real life. Fishing as we all know requieres alot of patience, but the relaxation and unlimited time for meditation you get out of it, is well worth it.
On my second day in
Pigg
(Pico's Japanese language counterpart), Catero (Pigg ID: grapheme) took me over to one of the fishing room that are available to newbies like me of the sport. There are currently five fishing rooms:
Japan Sea (日本海)
Ogasawara (小笠原)
Ishikari River (石狩川)
Inbamuna (印旛沼)
Amazon River (アマゾン川)
Each of the 5 rooms has beginner, intermediate, expert and super expert sub-rooms. To unlock more difficult rooms and sub-rooms you have to catch fish to gain points and work your way up as you get better at this sport. It's a good idea to purchase better bait and rods to do so. As you level up, new fishing rooms will open for you to enter.
After
countless
unsuccessful tries of trying to catch a fish on my first day, I became very frustrated and almost gave up. But Catero
forced
, I mean, encouraged me to continue trying. Now, I am glad I listened to my pushy friend.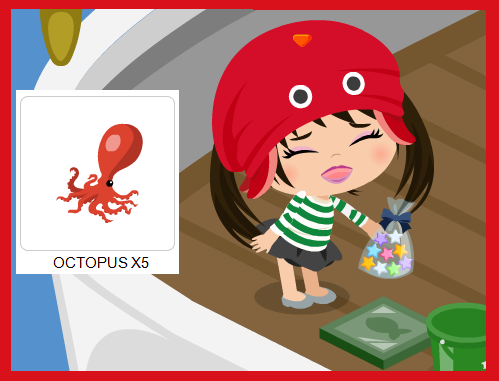 A few days of practice later, I can proudly say that I am getting better at fishing and I catch most of the fish that nibble at my bait.
Catero informed me that when I had sucessfully caught five octopuses, I would be rewarded with an Octopus Hat. With that in mind I set myself up for the challenge. I am happy to announce that I successfully caught five octopuses and now I wear this beautiful red Octopus Hat with pride! As a matter of fact, I eventually caught many, many octopuses and ended up getting a total of 3 tendriled hats and 3 eight-armed trophies. Not bad for a newbie, right? ;)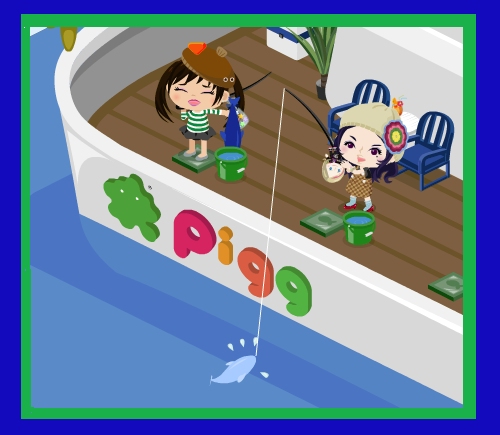 Left to right: sweet_mom (Pigg ID sweetlaura) and Catero (Pigg ID Grapheme)
Later that same day, and with my best buddy by my side, the struggle to catch more fish and see my fishing level increase continued. While I pulled and struggled to reel in the fishof the moment, my dear friend recalled how funny it was that on my first day of fishing I became so discouraged and walked away from the fishing platform and hid behind some bushes in shame. "You put yourself in time out! LOL!", Catero teasingly recalls.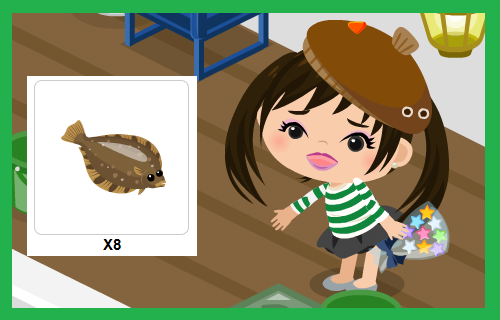 The great news is that, not only did I earn my octopus hats and trophies, but after catching eight of these brown flat fish (
okay, okay I don't know what they're called ... just sue me
:P) I also was awarded this beautiful and very chic brown flat fish hat! LOL!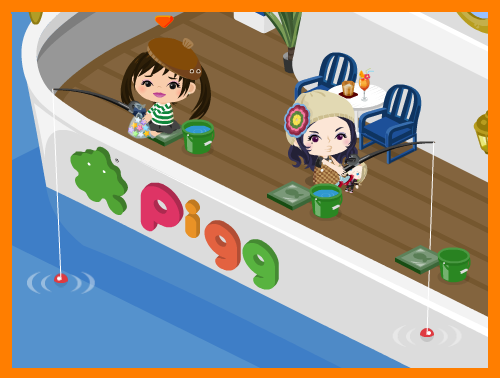 Left to right: sweet_mom (Pigg ID sweetlaura) and Catero (Pigg ID Grapheme)
Now, who is the sore looser? Of course, that would have to be my best buddy Catero who saw me put on my beautiful flat hat, then couldn't even look at me. Catero gave me the cold shoulder. LOL! I wonder how Catero did that. :O
(It's a weird glitch in the game.)
Just kidding! My best buddy was
so
happy and proud of me. Thank you, Catero, for your patience.
❤
By the way, this is a picture of one of my octopus trophies!