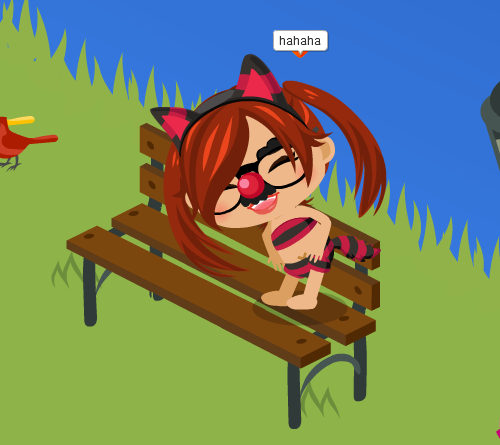 YES,yes, yes!!! Go ahead and tickle yourself right now. HMMM... try your belly. Nothing yet? How about under your arms... still not working? How about your neck or on the bottom of your feet... nothing???
Lets try something else, how about tickling yourself but in the heart. No silly, not with your hand but with a joke or a funny memory. That is how you can tickle your heart, it never fails me. When I am sad I cheer myself up by tickling my heart usually by remembering something funny that happened to me. For example like the time I fell at the mall and instead of feeling embarrassed because everyone was looking at me, I just started laughing big time. I really thought it was funny and the best thing was that people started laughing with me :) or were they laughing at me? Anyways it doesn't matter, I thought it was funny and I even enjoyed the fall.
ANYHOWS
, when you find yourself in an embarrassing situation, turn it around and instead see it as a funny thing. Don't take thing like that so seriously. Use all those funny situations to tickle your heart when you are feeling the blues <333
BTW: I have great news for you. I got my Monday Room Writers. Yes "WRITERS"!!!
I have sent three invites to join my Pico Perfect team. Please check your Emails and see if you got one. Hope to see your room articles this Monday <333