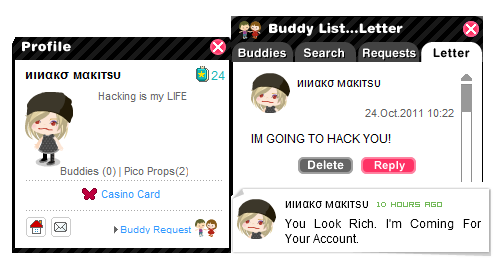 ARE YOU SERIOUS?!!!!
It seems our friend
иιиαкσ мαкιтѕυ
from -----, don't worry, I DO know where this threat is coming from, went through the trouble of creating a new account to scare me.
But иιиαкσ мαкιтѕυ couldn't be more wrong. I don't JUST look rich.... I am actually a millionaire. My wealth consists in the love of all my kind Picos. And that is something иιиαкσ мαкιтѕυ can NEVER take away from me.... the rest is just meaningless materialistic stuff that has no true value whatsoever for me.
Don 't worry my dear Picos, the doors to my Pico room will remain open for you all until we see what happens. God bless you all, be good in Life and don't forget to smile <333