YuP!
See, I am smiling again.... Hooray for me!
Thank God for smiles, they are the best thing to wear even on those cloudy days.
What do you say...
at the count of three will you give me your biggest smile ever?
Ready?
ONE
TWO
and
THREE
S
M
I
L
E
:
)
)
)

Guess What?
I felt all your smiles that now mine has extended from ear to ear.
Thank You <3
Once again it's Prom Time in Pico. Time to get those gowns out, get beautiful and go dancing with your date.
This year once again I find myself without a Prom date but that didn't stop me from going and checking it out.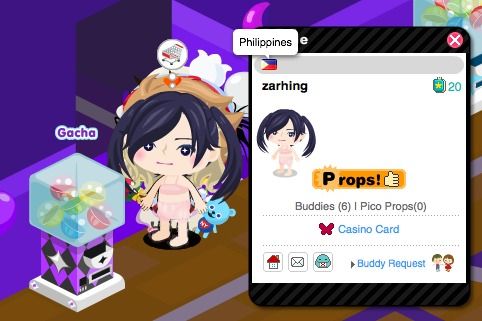 Upon arrival I noticed that our friend zarhing wasn't dressed properly for this special event. She was actually looking for something nice to wear at the last moment. Stopping at the entrance and looking for a while at the things available at the shop, she opted to remain in her under clothes. Can't blame her, with the gowns priced so high, and only available with Ameba Gold, what can I girl do? :(

Anyways,
Keep in mind that not having a pretty dress to wear to Prom shouldn't stop us from wearing something pretty we already have and our best smile and still enjoy Prom just like any other girl :)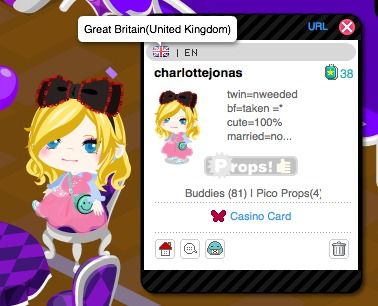 Unless you are like my little new friend charlottejonas that was so eager to find a dance partner and when no one would, she started crying.
(09:56) charlottejonas: anyone wanna dance with me?
(09:57) Sweets*: hi :)
(09:57) charlottejonas: hi?
(09:57) Sweets*: don't be sad
(09:57) Sweets*: you can dance alone :))
(09:57) Sweets*: I do it all the time :)
(09:57) Sweets*: :))
(09:57) charlottejonas: i want some 1 to ask me to dance
(09:58) Sweets*: I know you do
(09:58) Sweets*: but u still can have fun :)))
Then I start dancing by her side
(09:58) Sweets*: see
(09:58) Sweets*: :))
(09:58) charlottejonas: like this?
(09:58) Sweets*: yes
(09:58) charlottejonas: =)
(09:58) Sweets*: just have fun
(09:59) charlottejonas: =D
Soon, we were joined by other girls that like us, didn't have a date.
There is nothing wrong dancing alone. I do it a lot in Pico and in Second Life. The important thing is not to let those things make us sad. Of course, having a dancing partner may seem like more fun, but trust me, when they step on our toes, it's no fun at all ;)
The perfect example of what I am talking about is IcE_ArNia_blua.
I noticed her dancing alone, yes I said ALONE and having the time of her life. Watching her being so happy I couldn't help but joining her.
That is why
IcE_ArNia_blua
Is our Prom Queen of the day <3