Simple steps to unleashing your true fashionable self
Written by: ѕнαуиα♪
I have been searching all around Pico to find some fashion tips and style "icons" to show you.
This is highly recommended by
me
to wear. :-D Follow these simple tips:
1. Be Exciting!
Be yourself to be original. When you're yourself, people will get to know the real you ... and chances are they'll like it. Who likes a faker?
Choose clothing items that fit your personality. This means wear whatever makes you feel best - even if its crazy/random clothes! Put together different patterns and colors! Don't be afraid to experiment.
2. Save. Save. Save.
Many people - including me - like to spend all of their Gummies and/or Ameba Gold (AG) on interesting things you see other's wearing; things that catch our eye. Things that catch my eye may be rare to get because it costs AG or may be available for only a limited time. If you had enough AG wouldn't it be nice to buy those things?
Instead of wearing a little novelty things that most people will only wear for a short period of time (like Valentines Day, St. Patrick's Day, 1st Anniversary, etc. baubles) wouldn't it be nice to be one of the first people to wear that
new
jacket or shirt? It's a hard habit, but worth it. Save up your Tokens and earn some AG through the special offers.
3. Find yourself an "icon".
Look out for someone whose style you admire. Everyone has their favorite Pico "celebrities" that have have amazing clothes, beautifully decorated room, and overall just great panache. Most of them have blogs so they can share their fashion outlook with others. Follow them to get caught up on their Pico clothing choices! But remember ... nobody likes a copycatter. Use your own flair.
As for Pico style "icons", I've been searching all over Pico trying to find those that use "low cost" Pico clothing. I thought that their mixing of pricey or rare and affordable items was great. They were just adorable and needed to be seen. ♥
Peyton wears:
Colorful Headband/gn (Gacha prize @ 100- Gummies)
Don't Mess With Ma Girls! Big Hoop Earrings/sv (New York > David's Shop @ 30AG/1 Token)
Muslin Dress/gr (Shop > Fashion > Tops @ 100 AG/1 Token)
Supermarket Uniform Apron/gn (No longer available)
UK Traditional Glasses (Shop > Fashion > Accesories @ 800 Gummies)
Butterfly Designed Leggings/bk (Beginner's Plaza> RO80: Type F @ 400 Gummies)
Outdoor Trekking Boots /pk (Shibuya 106> Rinarina Shop @ 300 Gummies)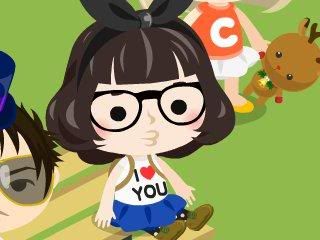 Pilsook, wears:
Tied Kerchief Headband/bk (New York > Rinarina Shop @ 150 AG/1 Token)
I LOVE YOU T-hirt (Lovely Heart Room > RO80: Type LUV @ 1,400 Gummies)
Skirt/bl (Gacha prize @ 100- Gummies)
Polka Dot Socks/bk (Begginers Plaza > RO80: Type F @ 300 Gummies)
Multi Pocket Backpack/bn (Shop > Fashion > Goods @ 800 Gummies.)
UK Traditional Glasses (Shop > Fashion > Accesories @ 800 Gummies)
Tough Hiking Shoes/kh (Shop > Fashion > Shoes @ 600 Gummies)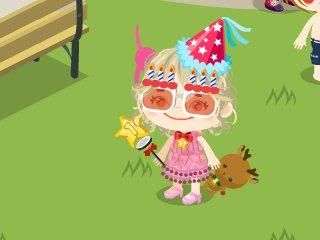 иgọc иgu иgu♥ wears:
Lets Party! Colorful Party Hat /pk (1st Anniversary Park > Gacha prize @ 100- Gummies)
Lets Party! Cake Sunglasses/wh (1st Anniversary Park > Gacha prize @ 100- Gummies)
Fringed Silk Dress/pk (Beginner's Plaza > RO80: Type F @ 1,600 Gummies)
Lolita Enamel Ankle Strap Shoes/pk (New York > Vivienne's Shop @ 1,500 Gummies)
1st Anniversary Star Stick (1st Anniversary Park > Gacha prize @ 100- Gummies)
Little Hand-hold Mister Red Nosed Reindeer (Christmas item; no longer available)